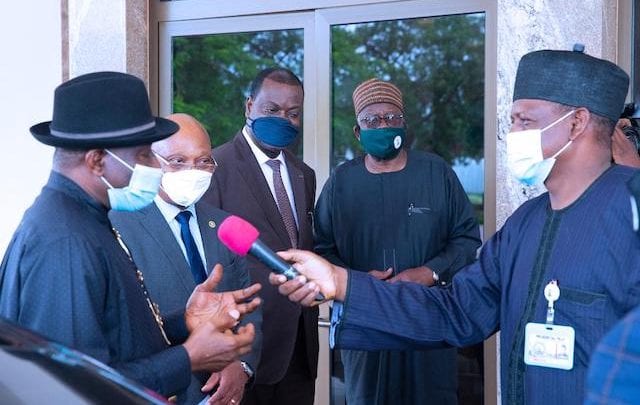 Goodluck Jonathan, a former President of Nigeria, has condemned Tuesday's shooting of #EndSARS protesters by security forces at the popular Lekki Toll Plaza in Lagos State.
POLITICS NIGERIA reports that some Nigerian youths took to the streets to protest the operation of the now-dissolved Special Anti-Robbery Squad (SARS), a unit of the Nigeria Police Force. The nationwide protests have metamorphosed into agitation for good governance and an end to police brutality.
However, in a bid to disperse the protesters, soldiers stormed Lekki, one of the venues of the protest, and opened fire on the young protesters. According to Amnesty International, twelve people died in the shooting, while several people sustained various degrees of injury.
Jonathan, in a statement on Thursday, said the federal government failed to dialogue with the protesters before using force. He added that such actions will only worsen the situation, which he said has already happened.
He said: "As leaders, we must understand that a nation can never win a battle against its own people.
"Thus, the use of deadly force against citizens only aggravates tense situations rather than assuage it. We must therefore move away from battlegrounds to middle grounds in our individual and national life. This, I believe, epitomises the essence of democracy.
"I condemn any unnecessary loss of life and urge efforts to be stepped up to ensure that there is no such reoccurrence.
"We all must accept that we are all brothers and sisters of one Nigeria, and always act towards each other accordingly."
Jonathan urged security agencies to ensure maximum restraint when carrying out their constitutional responsibilities of protecting lives and property.
He asked the federal government to immediately meet the demands of the protesters to forestall further breakdown of law and order in the country.
Jonathan also asked young Nigerians to give peace a chance especially now the various allegations of police brutality are being investigated by different stakeholders.
The former Nigerian leader noted that Nigeria cannot afford to lose her youth who will take over leadership and continue the nation's journey to greatness.