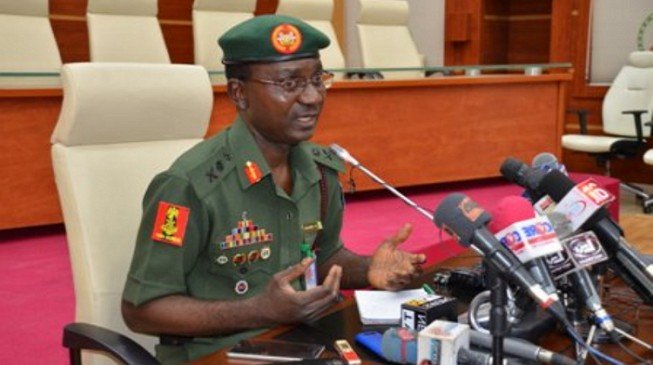 The Defence Headquarters has described the shooting and killing of #EndSARS Protesters on Tuesday night at the Lekki Toll Gate by security forces as a mere allegation.
The Nigerian Military has been accused of shooting at protesters who were agitating for an end to bad governance,m police brutality, and police reforms.
But speaking to reporters on Thursday at the Defence Headquarters Abuja, Coordinator Defence Media Operations, Major General John Enenche, said that the reports about soldiers shooting and killing protesters can not be proved for now.
He said that Governor Babajide Sanwolu of Lagos State has set up a Commission of Enquiry to investigate the incident and will make a formal statement after the investigation.
Enenche, however, urged Nigerians to remain calm and wait for the outcome of the investigation. Enenche added that the Nigerian Military will also wait for the findings of the commission.
He said: The issue is not an operation that I can respond to. But I can tell you that it is an allegation for now, so let us not set the cart before the horse.
"If the matter was still open-ended I would have had I response for you but is no longer open-ended, because immediately, not even up to five hours, before midnight the Governor of Lagos set up an Inquiry, so whatever we say now will not be fair to the Commission."
The Army Spokesman, however, noted that the Nigerian Military have continued their major operations across the country with attendant successes.