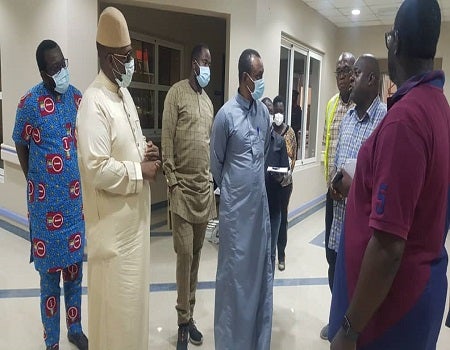 A social activist, Adeola Soetan has warned that the relaxation of lockdown in Abuja, Ogun, and the Federal Capital Territory (FCT) will cause more harm than good to Nigerians.
He made this known in a conversation with POLITICS NIGERIA on Thursday.
President Muhammadu Buhari had on Monday announced the relaxation of lockdown in the three states starting from May 4. The Lagos State government has also set up modus operandi for curfew in the state.
Meanwhile, Mr Soetan said the lockdown will pose danger to the public. He disclosed that the major reason for the relaxation is to satisfy the interest of the capitalists at the expense of the masses.
He said; "Our government said they don't  have enough funds as palliatives  to go round the poor masses and struggling working-class while on total lockdown."But they always have more than enough public funds to bail out private investors who cornered our commonwealth sold to them cheaply, many of them are fronts of powerful people in government.
"The public funds are given as bailout to private investor scammers who bought our social infrastructure such as the power industry, Ajaokuta steel, and private bank investors among others.
"The subsidy they continue to give to private businesses to keep afloat despite that they are no more public enterprises but profit-driven with many services is a legal scam. The analogy here is that you sold some of your houses or cars cheaply to your friends but you are still giving them your own personal money to renovate the houses to make them habitable or to repair the cars to make them roadworthy.
"That's is crazy logic of privatization, a major trap of capitalist  structural adjustment programme, that Government called social adjustment programme (SAP)."In the early 80s when Nigeria totally embraced SAP, particularly during Babangida regime, a picture of Nigeria as a future  Eldorado was painted by the then government and  their neo-liberal economic gurus with the arrogant slogan of: "No alternative to SAP" as their catchphrase. Almost 40 years now, our conditions have gone from bad to worse and the worst is now in sight.
"The public fund wasted and still to be wasted by the government to further keep all these ineffectual privatised companies more ineffectual is more than enough funds to give as palliative to citizens if they want us to be locked down for months and enough to provide good hospitals, isolation, and quarantine centres.
"So, anytime  government official  and their "new" bourgeois Guguru economists spew their usual boring meaningless jargons that government can't afford to give palliative to all vulnerable including the transitional vulnerable, just maintain  social distance, cover your nose  so as not to be effected with their lies, and remind them that their seniors, their grandfather economic gurus who taught them all these economic jamboree in the university and Brentwood institutions used to pontificate more than them with no better result."