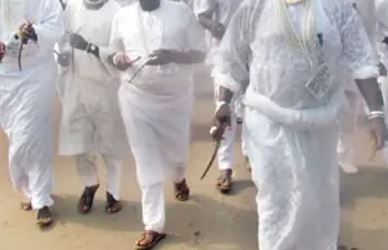 Ahead of the coming inauguration, traditional religion has called for the adoption of Ogun, the god of iron, to swear in all elective and appointed office holders in Nigeria rather than Bible and Qur'an in order to curb the misappropriation of public funds.
They made this call during a press conference held at Osemeji Temple in Ibadan, Oyo State, to herald the 2023 world annual Ifa festival.
Speaking through Jagunmolu Awo Agbaye, Fayemi Fakayode, said, "We have contributed and are still contributing to the development of our nation. The problem we are facing in Nigeria is our people at the helm of affairs because they are not honest, and that's what is affecting us.
"If we can decide to be swearing in political office holders, either elective or appointed officers, in traditional ways or through the god of iron, things will be better and they will stop embezzling our money because they know the immediate consequence of their action. Even in the judiciary, the judges too will give fair hearing and judgement."
Others, who spoke, included the Araba (Olu Isese) Agbaye, His Eminence, Awodotun Aworeni; Araba/Olu Isese of Ibadanland, High Chief Ifalare Odegbola; Araba/Oluwo of Oyo, High Chief Faleye Kusaanu and Araba of Oka Akoko of Ondo State, Chief Adewale Oso.
While urging the federal, state and local governments to give them the same honour as accorded Muslims and Christians, the traditionalists argued that ''they were entitled to all the things the other two religions enjoy in Nigeria.''