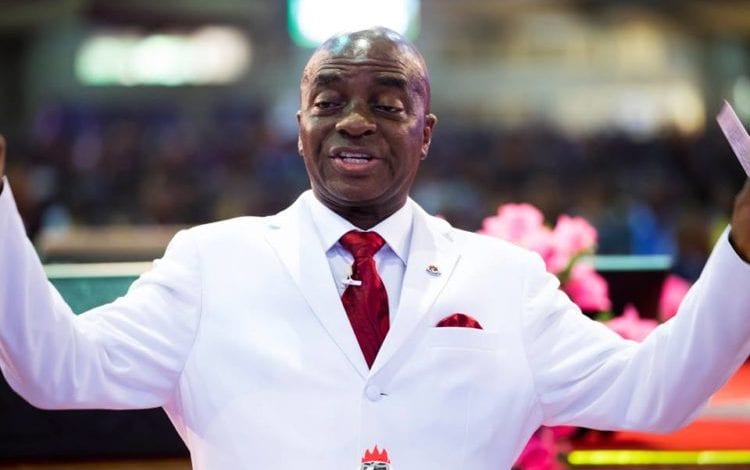 Controversy has trailed a statement by David Oyedepo, presiding bishop of Living Faith Church Worldwide, that social media should be regulated.
Many Nigerians on social media, particularly Twitter have expressed mixed feelings over the comment. Mr Oyedepo while speaking on Friday at the seventh convocation of Landmark University, Omu-Aran, Kwara state, said social media "unconsciously robs people of their future by robbing them of their time — no time to think; no time to plan; no time to programme."
"This generation may lose its heroes to social media disasters. Here is one creeping serpent that is eating up the destinies of many individuals."
"We must wake up from our slumber to deal with this monster. Young people, beware! Addiction to social media is like addiction to drugs. It can render a whole destiny useless."
"This social media saga has eroded the substance of destiny of most youths today. What is supposed to be a plus has suddenly become a major minus, because everything of value delivers through investment of time."
"Suddenly, we are faced with a generation on the wrong side of history; the honour of this generation has been wiped off — chatting all day with no time left to think, plan, programme and engage productively in the pursuit of any task."
"Many youths spend less than 10 to 20 percent of their time on their tasks per day. They can never match a generation that spends 70 percent to 80 percent of their time on their tasks."
"We must devise means to put a check on free access to social media, particularly those that are not adding values. Life is a race. Everyone should get on the track, ready for the run of their lives".
This is coming two years after the pastor kicked against the move by the federal government to regulate social media. He said in 2019 that "they (federal government) are looking for hate speech, they are not looking for hate acts. Which one is worse, hate speech or hate act?"
This newspaper reported that the Nigerian government on Wednesday told lawmakers to enact a law to regulate social media in the country. The action came barely two weeks after Lai Mohammed, minister of information, announced the suspension of Twitter's operations in Nigeria.
Many Nigerians have, however, stormed social media to express mixed feelings to the comments made by Mr Oyedepo.
Below are some reactions that followed on Twitter:
@CouragetheMan: "Man of God supporting censorship. Pretends to be shocked"
@EmmyCage: "What is it about this generation that threatens the older generation?"
@Delzs: "Oyedepo slapped a young girl and his mindless flock were rejoicing.
He's known in CU for saying "Move and you die!!!" and boasting about feeding countries. He is not someone who speaks for the people. I highly doubt the strongly guiding hand of God in his life."
@DarkGodwin: "Coming from the owner of Convenant University and its Draconian rules, this isn't surprising."
@PhilipCKO: "IN AFRICA – Government + religion – they will always align. All hail your GO."
@Osakararomen: "Quick one. During the pandemic, where were his members streaming his service?"
"Doesn't he do live streams during his programs?"
"Doesn't his church run social media accounts?"
@ChuksDikson: "Every Sunday service is streamed live on: YouTube, Instagram, Facebook etc, who is watching if not the youth and yet you earn from the streams."
@Sunero14: "If at this point you're still attending this man's church as a youth then there's something seriously wrong with your head. He's not said anything about Osibanjo yet,he's not even attacked the govt for making lives miserable for youths. But social media is he's problem. Oluku."
@bolaji08: "Lol. Always throwing the baby with the bath water. It is important to look at things holistically. Are they (him and all the backers of this backward and silly decision) aware what social media has done for youths?"
"Let alone it being a constitutionally guaranteed right?"