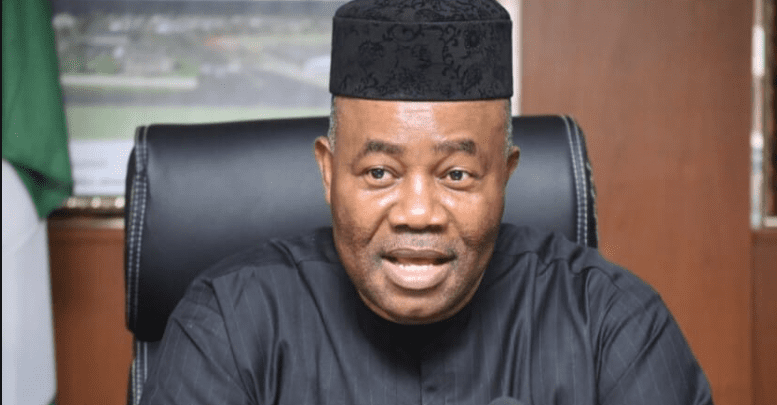 The Minister of Niger Delta affairs, Godswill Akpabio has rubbished reports that he sacked his Chief Press secretary, Anietei Ekong over alleged 'Ghana-must-go' bags rumoured to be containing money.
In a statement sent to POLITICS NIGERIA by his chief press secretary, Jackson Udom, Ekong was only reassigned not sacked.
"The attention of the Honorable Minister for Niger Delta Affairs, Senator Godswill Akpabio, has been drawn to a mischievous and ill conceived publication by an online media, purporting that the erstwhile Chief Press Secretary to the Minister, Anietie Ekong was sacked from office over "Ghana Must Go".
"We are not sure the online news platform that allowed itself to be used for this mischief, truly understands the difference between SACKED and RE ASSIGNED before rushing to please its pay master."
"Ekong, according to the letter relieving him of his position as CPS, was not sacked but reassigned. We therefore, wonder why reassigning an office holder by his employer should be interpreted to mean sack. But for the unsuspecting members of the public, who would have been fed with this outright lies and blackmail, we wouldn't have dignified the sponsored news with our response."
"To put the record straight, Anietie Ekong was never on the entourage of the Hon Minister, during his visit to Niger Delta Region, how could he have been sacked because of "Ghana Must Go" bags, that purportedly conveyed funds that was used to settle Tompolo?"
"It is, therefore, the height of irresponsibility and mischief for a media outfit to claim that the contents of the bags that were given to the people were stashed with money meant Niger Delta Leaders."
"Such spurious claim is an insult on the stakeholders for anyone to have belittle them to cash. It is good to point out that they are wealthy people and can not be bought over with money. They believe in the development of the Region and did not spare a thought in airing their opinions to their son, the Hon. Minister."
"We, therefore, call on members of the public, to disregard such spurious and paid stories which are intended to rubbish the achievement of peace in the Niger Delta, region which the minister is totally committed to.Those allegations, to say the least, exist only in the minds of the purveyors and sponsors of such baseless stories."
"No money was given to any stakeholder in sueing for peace for the region as all agreed that peace in the Niger Delta Region is non negotiable.The sincerity in pursuing peace in the Niger Delta Region as displayed by Mr President through his Minister, Senator Akpabio, conferred on both votes of Confidence from the stakeholders"
"It would be recalled that the Honorable Minister met with the King of Gbaramatu Kingdom with other kings from the Niger Delta Region. He also met with the leaders of Itsekiri, Urhobo, nationalities, paid a condolence visit to the family of the late Olu of Warri and visited the Olu of Warri Designate. He also met with Chief Government Ekpemupolo aka Tompolo, their illustrious son, and left through the creeks all in his bid at fostering peace in Niger Delta Region."
"Therefore, no amount of blackmail, lies and name calling, will deter the Honorable Minister from achieving the mandate of President Muhammadu Buhari for the people of the region."