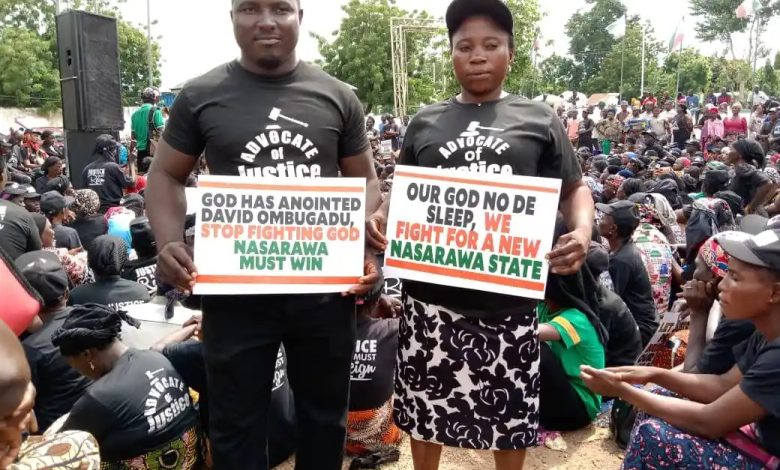 No fewer than 1,000 women from different religious organisations across the 13 Local Government Areas of Nasarawa held a prayer rally for peace and God-fearing judgement ahead of the state's governorship election petition tribunal judgement.
According to the women, the interface prayer session was for the governorship candidate of the People's Democratic Party (PDP), David Ombugadu, whom they claimed had overwhelming votes for in the March 18 election in the state to come out victorious.
Speaking shortly after the exercise, the group's spokesperson, Justice Hanatu John, said that the event was for God's intervention and to deliver the state from slavery through the judgement of the tribunal devoid of ethnic, religious and political sentiments.
John led the women, all dressed in black attires, singing emotional songs in Hausa, carrying placards with several inscriptions during the rally.
She explained that the reasons for the rally were also to seek the face of God in the case at the governorship election petition tribunal in the state between Ombugadu of PDP and Governor Abdullahi Sule of All Progressives Congress (APC) for a fair judgement.
She expressed confidence that God will not fail the aged women in their prayers under the scorching sun and will give the judges handling the case to deliver justice to Nasarawa on the day of judgement.
"All residents of the state, including members of the All Progressives Congress, are aware that the PDP candidate, Dr David Ombugadu, won the March 18, 2023 election, not the incumbent governor, Abdullahi Sule, as announced by the Independent National Electoral Commission.
"These women you see here are over 1,000 in number, cutting across various faiths.
"They voluntarily came out from all parts of the state to pray for the person residents gave their mandate to because they were tired of the APC-led government. They no longer want to be deceived, so they are all gathered here today in solidarity with the PDP.
"We are appealing to the tribunal and the judiciary to do the right thing on the day of the judgement. They should review the results collated from across the 13 LGAs of the state and announce the actual winner of the governorship election."