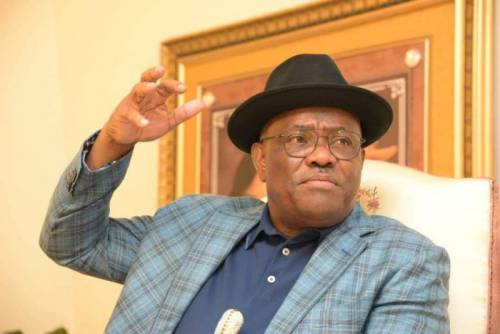 Rivers State governor, Nyesom Wike, on Friday downplayed the sack threat by members of the National Assembly (NASS) to President Muhammadu Buhari, saying they lack the courage to do so.
POLITICS NIGERIA reports that opposition lawmakers recently reaffirmed their resolve to impeach President Buhari if he fails to tame the insecurity ravaging the country within six weeks.
But speaking at the commissioning of the Rivers legislative quarters, Wike declared that the threat by a 'significant' section of the National Assembly is empty.
"They said they will impeach Buhari. They don't have the balls, they don't have it," Wike said.
"Ordinary to override electoral act, they couldn't.
"I have told them they cannot talk now [sic].
"These people will stand up and say, 'Mr Speaker…' They think they can use Nigerians up and down, 'wayo [cunning or mischievous]'. Something you know you cannot do, why do you say it out?"
Watch the video here.