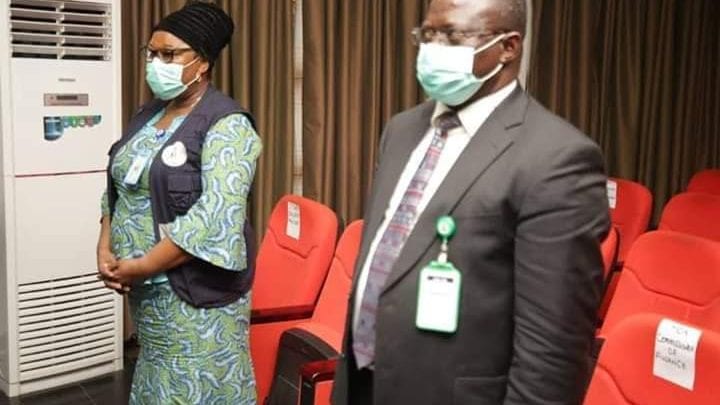 Officials of the Nigeria Centre for Disease Control (NCDC) have arrived in Abuja following Governor Yahaya Bello of Kogi state's request that the delegation undergoes COVID-19 test and be isolated for 14 days.
POLITICS NIGERIA reports that the federal government had sent the officials to the state on Thursday to boost its capacity in the fight against the dreaded infection.
But governor Bello told the delegation during their visit to the government house on Thursday night that the rules laid by the World Health Organisation (WHO) would be strictly followed.
He, however, asked that the NCDC officials to undergo test and remain in isolation in the state quarantine center or should leave the state immediately.
However, in a statement released by the state Commissioner for Information, Kingsley Fanwo, wondered why the delegation chose to return to Abuja than to be tested or self-isolated.
Fanwo asked Chikwe Ihekweazu, Director-General of the NCDC, to immediately probe the reason behind the officials' refusal to be tested.
The commissioner asked if the NCDC and its officials were hiding anything from the people of Kogi.
"It was drama today at the Kogi State Government House as officials of the National Center for Disease Control sent to ascertain the COVID-19 status flee the state " Fanwo said.
"The Officials said they were not ready to be tested for COVID-19 and went back to Abuja. Today, the Governor showed the statesmanship in him once again by appreciating the support of the NCDC and defending the health interests of his people.
"NCDC quarantined the Chinese professionals that came to give them technical support and also took their samples for test. It is a normal practice and protocol set by NCDC.
"So NCDC will have a lot to explain as to why its officials refused to test for COVID-19. How can we be sure of their status? What are their fears? Why did NCDC sent people who are afraid of test to our State? What was their intention? The officials that came have done an integrity blow to the works of the NCDC. Is there something they are hiding? It is time NCDC opened up and apologize to the good people of Kogi State. How will they encourage people to test when its own officials are afraid of test? This is sad."