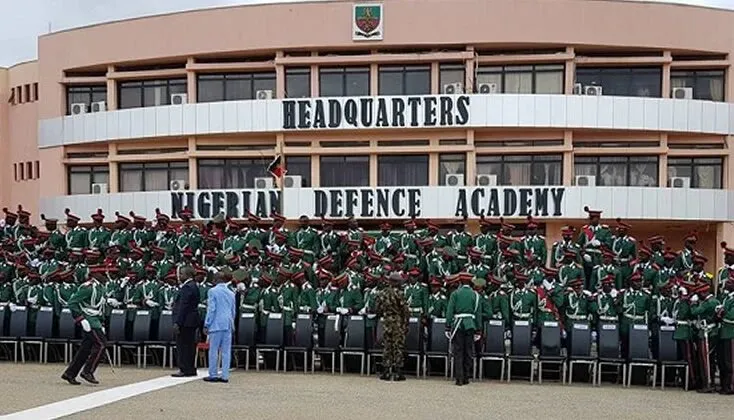 A presidential candidate in the 2019 election in Nigeria, Kingsley Moghalu on Tuesday decried 'the terrorist attack on the Nigerian Defence Academy (NDA)' in Kaduna in the early hours of the day.
Moghalu bemoaned the inability of Nigeria to defend its land and citizens, while also lamenting that "political, military and counterterrorism leadership are indisputably weak".
"I condemn the terrorist attack on the Nigeria Defence Academy @HQ_NDA , the death of two military officers and the abduction of one. This shocking development says much about the absence of capacity of the Nigerian state to defend our territory and our citizens, despite narratives to the contrary. The war against terrorism must be won. It can only be won when the attacks on Nigerian citizens, territories, and our military institutions END and the terrorists are completely crushed. We are more vulnerable than we realize. I salute our gallant soldiers who are the forefront of this war, but sadly, political, military and counterterrorism leadership are indisputably weak," the former Central Bank of Nigeria (CBN) Deputy-Governor wrote on his verified Twitter handle.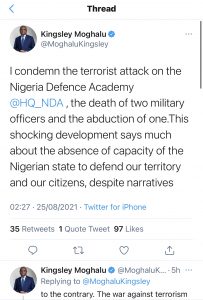 POLITICS NIGERIA recalls that bloodthirsty bandits killed two military officers and kidnapped another when they attacked Nigeria's foremost military university, the NDA, Kaduna on Tuesday.
The murdering bandits shot Lieutenant Commander Wulah and Flight Lieutenant Okoronkwo while Major Stephen Datong is still missing.
Although, reports coming in early Tuesday morning suggests Datong was later found dead, this newspaper cannot independently confirm the trueness of the news.