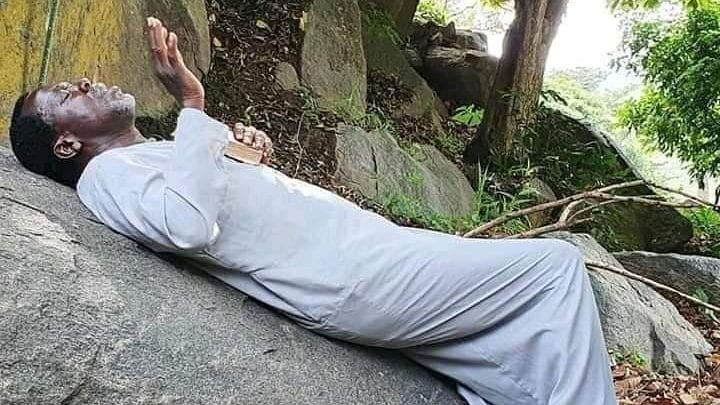 Nigerians have reacted to a video trending online showing Prophet TB Joshua, the founder of Synagogue Church of All Nations (SCOAN), praying to God to stop the spread of the novel Coronavirus (COVID-19).
In a 3 minutes clip seen by POLITICS NIGERIA, the televangelist was seen lying down on a big rock and praying to God. He was also seen sleeping on a mat, looking lean and calling on God for divine intervention.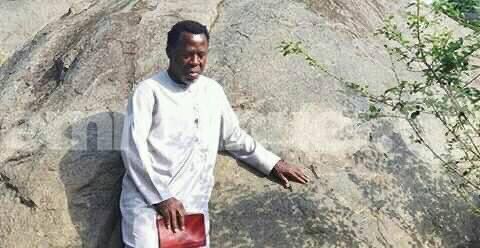 The pastor, who was dressed in a long white garment, said he has been on the prayer mountain for four days praying to God concerning the scourge ravaging the world.
He prayed: "I have been on this mountain for the past four days, this is where I stay, this is where I sleep to know the mind of God and what is going on concerning the situation right now in the world.
"COVID-19, this is your end! Lord Jesus, You have done it before; do it again," he declared, further praying for "sin's power" and "every influence of COVID-19 all over the world" to "be broken."
The controversial prophet also prayed to God to give all the world leaders wisdom to defeat COVID-19, the pandemic that has practically brought several countries to their knees.
"Give our leaders wisdom and understanding to guide their nations," he appealed, insisting they needed Divine help in this "critical time".
The pastor also prayed for those that are sick to be healed. He also asked God to use all the health workers to restore the health of sick ones.
"Whatever sickness in your body, fluids, organs, whatever name they call it – COVID-19, whatever affliction – receive your healing, in the name of Jesus," he declared.
He added: "Let them sense the presence of God… Lord Jesus, guide the surgeons' hands."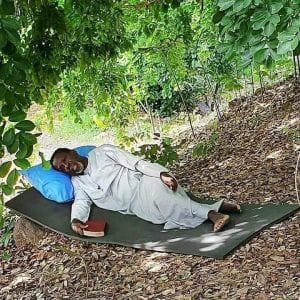 However, Nigerians have taken to Twitter to berate the controversial prophet for showing himself praying against the pandemic. They condemned him claiming he was out chasing clout.
While others appreciated the pastor for his intercessory prayer for Nigeria and the world against the dreaded disease.
Some of the reactions below:
Covid19: You mean TB Joshua went to the Mountain to pray, accompanied by his Bible, Cameramen and Press Crew! 😂 😂 😂 😂 pic.twitter.com/TVU42vkute

— Covenant Buhari (@CovenantBuhari) April 28, 2020
Lol…TB Joshua and theatrics.
Never really understood the need to go to mountains to pray…just don't get bitten by snakes. https://t.co/HhCE5MQdEK

— Baldilocks (@Baldilocks__) April 28, 2020
TB Joshua on a mountain doing COVID-19 Photoshoot 🤡 pic.twitter.com/s1KQo1CIBB

— bz⚡️ (@Bluzezs) April 28, 2020
TB Joshua is the only pastor that is concerned about his congregation and Nigerians.

Other pastors are chop life geng that only care about offering and their pockets.

TB legit went to the mountain to pray and do photoshoot. The real man of God with a degree in Theatre Art.

— Online bestie|Crochet designer (@the_lopetee) April 28, 2020
Prophet TB Joshua is praying & fasting on the mountain for Coronavirus to end. He has refused to eat until the enemy is defeated. pic.twitter.com/Mom4ifaGhA

— Man's NOT Barry Roux  (@AdvoBarryRoux) April 28, 2020
I hope when this pandemic is over, Nigerians will remember that Oyedepo, Adeboye, TB Joshua, Sulaiman, Oyakhilome and other miracle peddlers are simply showmen who couldn't perform when we needed them the most.

Muting this tweet now cos i have a headache.

— Baldilocks (@Baldilocks__) April 28, 2020
Dear TB Joshua & Emmanuel family, we don see all una attempt to take over the street from the lion family & our daddy indaboski Odumaje.

If u carry goal goal, we go give you handicap, call last card, we give you pick 2.

We no come joke this 2020 ooo. pic.twitter.com/RbMKGViV9d

— Comrade Sekoni. (@SekoniTweets) April 28, 2020
Since yesterday, I have been seeing photos of TB Joshua with a claim that he went to fast and pray on the mountain. Many folks are mocking him but I don't know why coz obviously none of the people posting mocking memes are there to know whether he is lieing or not.

Next trend

— Terkuma Iorjaah (@TerkumaI) April 28, 2020
Tb Joshua went to self isolate and told you people he's going to pray for you on the mountain.

Talking about he won't eat or sleep until the enemy is defeated..

Fraud 🤣🤣🤣

— Schrodinger's Ghost (@gabe_ken) April 28, 2020
https://twitter.com/ScofieldSteven1/status/1255127088073306119
https://twitter.com/femii_dapson/status/1255127296723345409
Please help us beg TB Joshua to eat so he can see clear visions.#TBJoshua

— Dem Say na Grace🤑 (@ehm_mojadesola) April 28, 2020
Wonders!! Pastor TB Joshua Climbs Mountain for prayer against CoronaVirus (See photos) » Vibesloaded

Lagos Lockdown / Mourinho #Lagoslockdown #4thmay
https://t.co/NswUgLI55b

— KADUNA TALKATIVE (@VibesloadedBlog) April 28, 2020
https://twitter.com/uncle_junior0/status/1255120321985810435
What we see vs behind the scenes

News headline:
Prophet TB Joshua relocates to the mountains #3rdmainlandbridge #lagoslockdown pic.twitter.com/4b3YbxVdHw

— #WeAreTired (@TalkTalkTwins) April 28, 2020
TB Joshua went for a picnic 🧺 in the woods. Only Yankee people fit understand that kind trips . pic.twitter.com/S1RJ8NU345

— Odogwu Odenigbo Chukwumerije (@odenigno) April 28, 2020
To be honest, TB Joshua has been the most concerned pastor during this pandemic. He might be getting it all wrong but I still appreciate the effort. He first made an effort at predicting the end. Now he has made an effort to seek divine help through indefinite fasting. pic.twitter.com/aRo5tEVPsc

— DR.PENKING™ (@drpenking) April 28, 2020
Rare picture of TB Joshua & crew after the photoshoot.. pic.twitter.com/Q50gkcBsfQ

— The Pragmatic Q.S ® (@Emmlaw) April 28, 2020