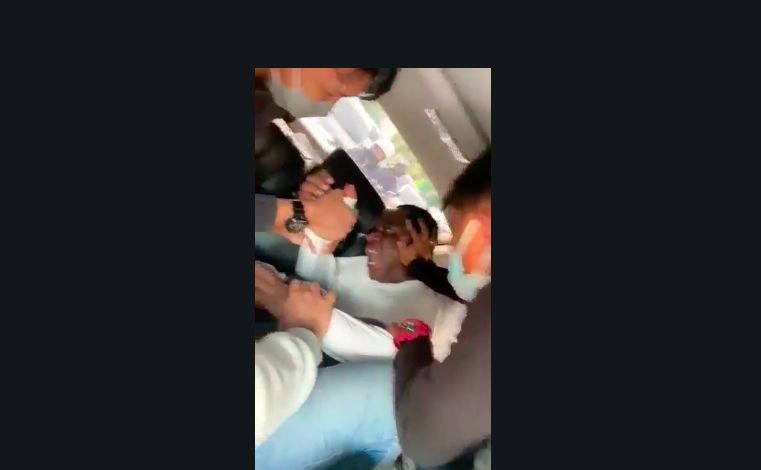 The Indonesian high commissioner to Nigeria, Usra Harahap has defended the assault carried out by Indonesian immigration officials on a Nigerian Diplomat in the country on August 7th.
A video trended on social media showing the diplomatic official simply identified as 'Ibrahim' screaming for his life as two Indonesian immigration officials assaulted him. On pinned his head to a car headrest while the other squeezed his throat.
The video generated a massive outcry causing Nigeria to recalls its ambassador and the diplomatic officer. Speaking on the matter to Punch, Harahap said;
"By that time, they met with Mr Ibrahim and politely requested him to show his travel document. He answered that his passport was in his room."
"Then the officer asked again, 'Can we see your travel document to check the residence permit and if there are no problems with the document, so you may continue your activities. Mr Ibrahim was not willing to show his passport and said to the officer, 'you will know who really I am and be careful on that.
"Instead of showing his identity card, Mr Ibrahim was angry and said, 'Just arrest me and you will regret to know who really I am.'
"The officer said, 'We will not detain you, further sir if you can show us your identity card.' Then Mr Ibrahim said, 'Where is your car, I'll come to your office.'
"On the way to the immigration office in South Jakarta, several incidents happened. Mr Ibrahim elbowed the immigration officer, Mr Laode Hauzan Baidi, who was sitting next to him until Mr Laode's lip was bleeding."
"This led to other officers restraining him from attacking another officer during the trip."
He disclosed that Ibrahim later showed his identity card. He revealed that the issues was resolved when the Nigerian High Commissioner to Indonesia arrived at the South Jakarta Immigration Office.
Nigeria's ambassador, Usman Ogar and the affect diplomatic officer, Abdurrahman Ibrahim are on their way to Nigeria as at the time of filing this report. They are expected to arrive soon.