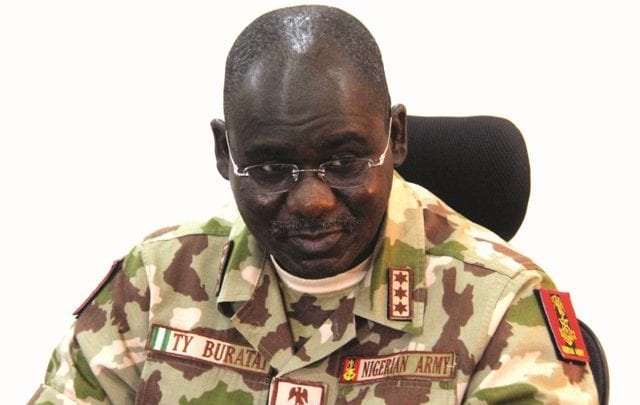 The Chief of Army Staff, Tukur Buratai, has appreciated the Nigerian military for securing the country and defending it from external aggression over the last 60 years.
Despite the calls for the sack of the Service Chiefs over the incessant attacks by bandits and the Boko Haram insurgents, Buratai said that the military has discharged its constitutional responsibilities effectively.
Speaking to reporters on Thursday on the country's journey at 60 years of independence, Buratai noted that the military has contributed immensely to the country's economic, political and socio-economic development.
He added that the army has also played a huge role in ensuring the country's corporate existence for the past 60 years. Buratai said that the army will continue to ensure that Nigeria is united and undivided.
He, however, all military officers who worked tirelessly to ensure that the country is secured, despite the security challenges facing the nation over the years.
"If you look at our constitutional role and of course vis-a-vis our defence priority, the defence of Nigeria from external aggression is number one priority and to maintain her territorial integrity is second," he said.
"These key priorities are fundamental and this has manifested in the successful prosecution of the Nigerian civil war; an unfortunate war of the brothers with unfortunate consequences of war as it should be.
"At the end of the war, it has been declared no victor, no vanquished, but the memory still lingers on in terms of the human casualties, the economic consequences, and so on.
"Equally, over the years, we have participated in several internal security operations to ensure that the country does not disintegrate and remains one.
"This has been done very successfully when you talk of the western region crisis, the Maitatsine crisis, the Taliban crisis and what we are facing today, the Boko Haram crisis.
"The Nigerian army has kept the country united, strong and it has further enhanced the image of the country with the patriotic and gallant performance of our troops across the various theatres of operation."