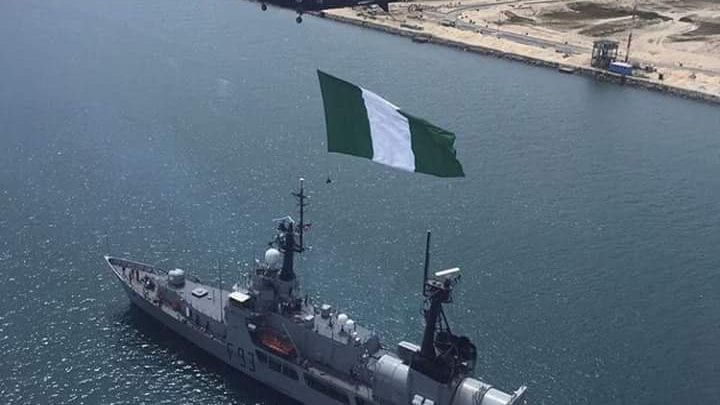 The Nigerian Navy (NN) has debunked a viral video concerning its ship in alleged distress.
POLITICS NIGERIA reports that a crew member of a Service Boat Motor Vessel (MV) Pacesetter could be seen lamenting "why a Nigerian Navy war ship should be in such a terrible and helpless situation at sea, and calling on Nigerians to vote for Peter Obi, presidential candidate of the Labour Party, otherwise the country will sink just like NNS Thunder".
But in a statement on Monday night by Commodore Adedotun Olukayode Ayo-Vaughan, the Director of Information for the service, the Navy said the man who spoke in the video was "clearly unpatriotic and an unprofessional seafarer".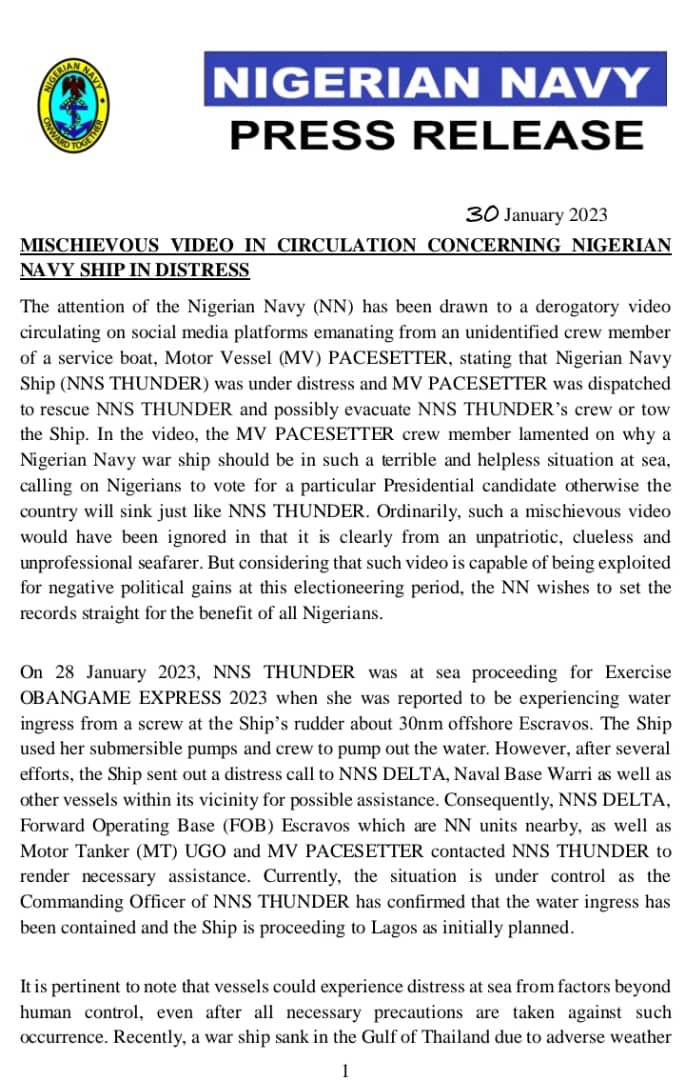 The Navy's statement partly reads: "Considering that such video is capable of being exploited for negative political gains at this electioneering period, the NN wishes to set the records straight for the benefit of all Nigerians.
"On Saturday, January 28, 2023, NNS Thunder was at sea proceeding for Exercise Obangame Express 2023 when she was reported to be experiencing water ingress from a screw at the Ship's rudder about 30nm offshore Escravos.
"The Ship used her submersible pumps and crew to pump out the water. However, after several efforts, the Ship sent out a distress call to NNS Delta, Naval Base Warri as well as other vessels within its vicinity for possible assistance.
"Consequently, NNS Delta, Forward Operating Base (FOB) Escravos which are NN units nearby, as well as Motor Tanker (MT) Ugo and MV Pacesetter contacted NNS Thunder to render necessary assistance.
"Currently, the situation is under control as the Commanding Officer of NNS Thunder has confirmed that the water ingress has been contained and the Ship is proceeding to Lagos as initially planned."
It added: "The state of NNS Thunder is not as adduced by the crew of MV Pacesetter because while making the video the Ship which was at the background was not sinking.
"Thus, the NN is of the opinion that the action by that crew member of MV Pacesetter is mischievous, distasteful, unpatriotic and most undesirable as it is capable of putting the families of the ship's crew in a state of anxiety."