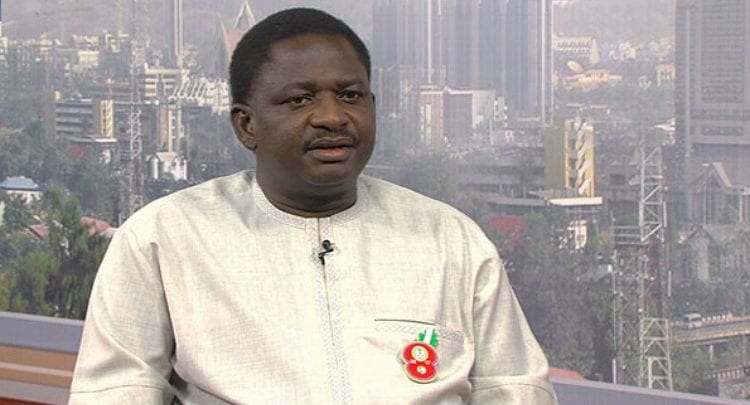 Nigerians have expressed their disappointment at Femi Adesina, Presidential Spokesman over his reason why President Muhammadu Buhari has not been addressing Nigerians on the COVID-19 virus pandemic affecting the country.
Adesina, in an interview with Channels Television on Thursday, stated that the President's inability to address Nigerians on a daily basis on the spread of the pandemic in the country is a matter of 'Style'.
The media aide said: "It's a matter of Style. If you go back to school, you'll remember in Stylistics class, we were told that style is Idiosyncratic which means it differs from person to person.
"The Style that 'A' adopts may not be the one that 'B' adopts. There is a style that you can call 'THE STYLE' for everybody. So, everybody is at liberty to adopt a style that suits him.
"The Style our president has adopted is to set up a presidential task force headed by the secretary to the government of the federation, which briefs regularly…The health minister who briefs…the minister of state health who also briefs…you have the NCDC national centre for disease control, they brief….you have that chain, so there is no lack of Information."
Immediately after the interview, Nigerians took to social media to attack Adesina over the insensitive statement amid the outbreak of the pandemic.
Below are some of the reactions of Nigerians captured on Twitter:
Every single thing Femi Adesina has said this year lacks,

1. Emotional intelligence
2. Empathy and genuineness

Femi is really showing us clearly that Buhari and his cabinet are pure theory X leaders.

Femi and his pay master can do better.🙄

— Oloye Ayo Gbadebo (@holudaray) March 26, 2020
State Governments are standing up and showing leadership.

From Lagos to Rivers to Kaduna to Ekiti to Oyo to Osun to Niger…but the President of the country has disappeared.

Femi Adesina says it's his style. Every single global leader is out there leading from the front. SMH.

— Dr. Dípò Awójídé (@OgbeniDipo) March 26, 2020
🤣🤣🤣🤣🤣🤣🤣 #WhereIsBuhari is freestyling by femi adesina , this guy don get job wey be say if he reach house he go ask himself "wetin I find come here" lol https://t.co/r5p4Vq0TGR

— I go talk my own🤫 (@Bam1944sure1) March 26, 2020
🤣🤣🤣 Baba motherfucka ni Femi Adesina yí sha! Lai se change your style, another style… https://t.co/oosWTRK5yg

— Adun-Adebowale (@fernandeztoheeb) March 26, 2020
Uncle Femi Adesina sir, did you mean style of leadership or style of communication? https://t.co/lZhaZFCAfE

— Gbemi Dennis™ (@GbemiDennis) March 26, 2020
Okay we have heard you, Femi Adesina.

Oya Bubu change your style nah. Another style. https://t.co/5h0li7R7k6

— Wale Adetona (@iSlimfit) March 26, 2020
Femi Adesina say untop di question of #WhereIsBuhari and why Buhari no Dey follow naija people relate na matter of style.

Which kind yeye style bi dat one my pipo?

If na English bi presido problem. Make e use Hausa brief us for dis #COVID2019 matter. pipo Dey to interpret pic.twitter.com/EC3BLpOGj4

— Naija Pidgin (@NaijaPidgin_) March 26, 2020
Tell GMB to put his gadam face on TV & address Nigerians

Trudeau addresses Canadians from isolation

Enof of this speaking to Nigerians thru proxies! Garba Shehu, Bashir Ahmad, Femi Adesina, Lauretta Onochie were not the ones on the ballot

Buhari be honest for once in your life

— NEFERTITI (@firstladyship) March 26, 2020
Lai Mohammed, Garba Shehu and Femi Adesina same whatsapp group.

Tolu Ogunlesi, Bashir, and Lauretta another WhatsApp group…

The former are doing the dirty job on Channels President while the latter are doing the dirty job on the TL.
We didn't vote any of them!#WhereIsBuhari

— Premier (@SodiqTade) March 26, 2020
https://twitter.com/BhadmusAkeem/status/1243302922257158145
There's white house press sec but Trump holds daily press briefings. There's Downing street press sec but Boris holds presser everyday. We didn't vote Femi Adesina or Garba Shehu but Buhari. https://t.co/SOR0v6WgTf

— Principino (@AhmadJaafaru) March 26, 2020
Every single thing Femi Adesina has said this year lacks,

1. Emotional intelligence
2. Empathy and genuineness

Femi is really showing us clearly that Buhari and his cabinet are pure theory X leaders.

Femi and his pay master can do better.🙄

— Oloye Ayo Gbadebo (@holudaray) March 26, 2020
Femi Adesina's lack of reasoning before spewing out crap is a matter of brain low on memory. https://t.co/5ehPT1cXvR

— Adetutu Balogun, MBA (@Tutsy22) March 26, 2020
Femi Adesina needs to see a psychiatrist. https://t.co/OsR3sXlnSo

— Joseph (@jonesawumen) March 27, 2020
Somebody should tell Femi Adesina that this is Buhari's style. #WhereIsBuhari pic.twitter.com/LFbMlLS3Cb

— Ayemojubar (@ayemojubar) March 26, 2020
this guy femi adesina is a fool big one https://t.co/la7Y0xxjor

— The Dream Of Freedom (@ElderKbk) March 27, 2020
At least Lai Mohammed makes me laugh. Femi Adesina is pure cringe. Please #WhereIsBuhari pic.twitter.com/hS24NgAMcL

— Timi Albert (@kinghoodie_) March 27, 2020
There's a reason Femi Adesina, Tolu Ogunlesi, Lauretta Onochie and Adamu Garba keep been foolish, after all the likes of Doyin Okukpe, Reno Omokri and Ruben Abati who sold us lies of Demons in Aso Rock are still walking around freely.

— KESSENA (@Niemeyer_O) March 27, 2020
Femi Adesina – #Mrdefender Always ready to defend Mr president any day any time. Now the idiot is talking about style. Mothafucka😒😏
It's official, Nigeria has no president.. Where's bubu? #WhereIsBuhari pic.twitter.com/VZVeZxZfn7

— Omo'yabeeji 🌠 (@bizy_brain) March 27, 2020
When carpenter makes mistake in hitting the nail, Femi Adesina calls it style. Buhari as a carpenter is disgruntled. https://t.co/F8b6EC3JiT

— Austin Nwabufo (@AustinNwabufo) March 27, 2020