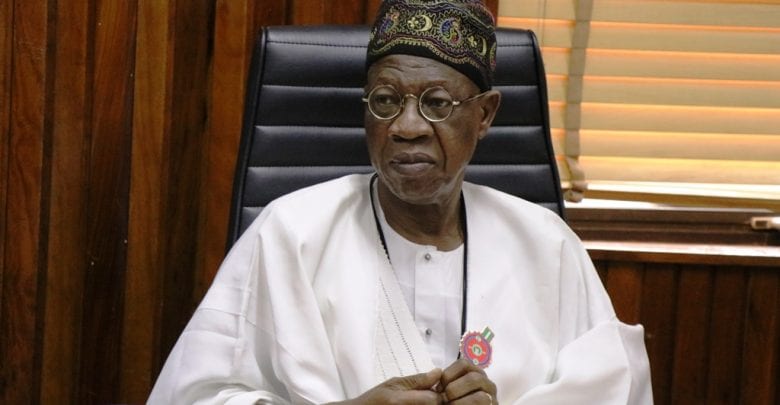 Nigerians have taken to social media to condemn the Minister of Information and Culture, Lai Mohammed, over the arrest of the wife of a journalist, Dorcas Jolayemi.
POLITICS NIGERIA reports that the Kwara State Police Command had arrested Mrs Jolayemi and her brother-in-law for criticising the minister in a poem. She said she was detained for eight days by the police in Kwara.
Meanwhile, the arrest and the detention of the journalist's wife has been criticised by Nigerians, who described the minister as being intolerant.
See some of the reactions below:
https://twitter.com/hormo_nelson/status/1265281633428611072
Someone said they should sack Femi Adesina and Garba Shehu and replace them with only Ajuri.
He said Ajuri is a solid fellow who deals with verifiable facts.
For a moment, I was confused.
Is it not the same Ajuri that called Lai Mohammed is father and mentor…lol

— Premier (@SodiqTade) May 26, 2020
I was shocked when I read that Lai Mohammed ordered the arrest of a journalist the other day.
The following are the words/statements of Lai against GEJ. And GEJ did nothing. Not even a threat.

"President Jonathan is witch-hunting political opponents' Lai Mohammed, 2013

— Premier (@SodiqTade) May 26, 2020
https://twitter.com/FestusGreen/status/1265219613048147969
'Never in the history of any nation has incompetence & cluelessness been exhibited by a leader, as Jonathan
-Lai Mohammed
Apr 28, 2014

ME:The same Lai Mohammed now orders the arrest of Journalist for criticizing him.Are we now in a Military regime?

— chijioke, Ph.D., Nuclear Engineering(Affidavit). (@Ekwulu) May 26, 2020
As the mouth piece of the opposition party then the @APCNigeria Lai Mohammed was all over the airwaves propagating lies and propaganda against the then president.

And some fools bought into it.

That is what Uncle @DokunOjomo is referring to.

Hope you understand now?

— 🇳🇬🇮🇱Omo Esan Of Bini.CFR.🇮🇱🇳🇬 (@Usihol) May 26, 2020
@MBuhari and @OfficialAPCNg just confirm that @GEJonathan is a Saint at all. Buhari set a good example now Lai Mohammed can other for the arrest of a citizen all because criticism 😔

— Gary (@GareOkpan) May 26, 2020
Once you are a politician in Nigeria, you haven't just arrived you are now a demi-god that must be worshipped.

You become uncheckable, you become unquestionable.

If not for anything Lai Mohammed as a grandpa should be more tolerant, his grandchildren are watching.

— Ayemojubar (@ayemojubar) May 26, 2020
Sad.

Same person that killed @GEJonathan 's image can not tolerate criticism.

I spent eight days in detention because my husband criticised Lai Mohammed –Housewife https://t.co/BlYaKuzRqB via @MobilePunch

— Dokun Ojomo (@DokunOjomo) May 26, 2020