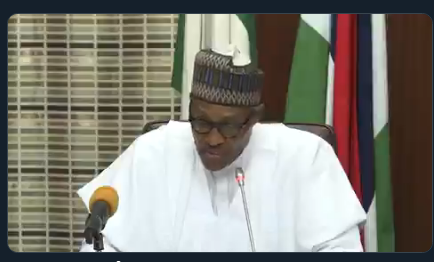 After heavy criticism from the public, Nigeria's president, Muhammadu Buhari eventually spoke on Coronavirus on Sunday.
The broadcast was the first time Mr Buhari will be speaking since the first outbreak of the virus in Nigeria.
During the address, Mr Buhari said: "We are working with [Federal] Ministry of Health on protecting our citizens from 'covik-one-nine' virus, as a government, this is now a key priority for us.
"Following the wrong pronunciation of the COVID-19, Nigerians took to Twitter to lambast the president.
https://twitter.com/AsiwajuLerry/status/1241817373541310471
Another user tweeted;
Buhari said COVIK-1-9-Virus? 😳
I warned you guys. 🥺😭
Corona Vasis. 😷 pic.twitter.com/Vtbo5AXdNl

— Ayemojubar (@ayemojubar) March 22, 2020
Aisha Yusufu, co-convener of the BringBackOurGirls campaign group, expressed displeasure over the content of the message delivered by the President.
"He is working with the Ministry of Health? Are you sure Buhari still knows he is President? Anyway, those who said he shouldn't address how do they feel? Finally, this address is adequately inadequate! Let him do one in Hausa. We will translate", she tweeted.
This is coming after 2 months of speech rehearsal .
COVIK 1 9 😂😂#COVID19NIGERIA pic.twitter.com/MzPOCClocZ

— Preacher's Kid🎤 (@glynx7) March 23, 2020