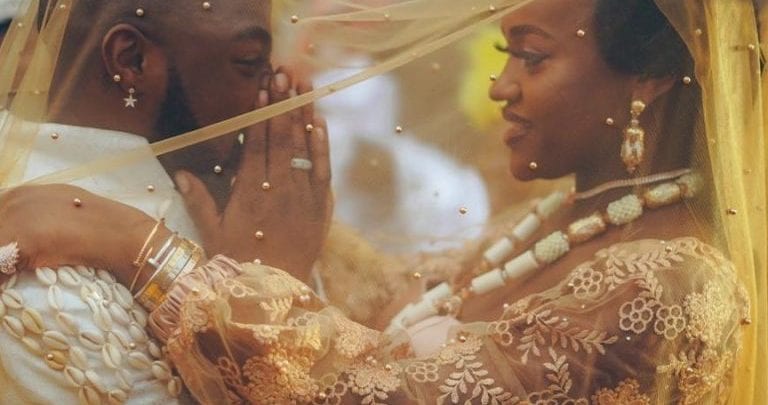 Nigerians have expressed sadness over the news that Chioma, fiancee to Nigerian singer David Adeleke, popularly known as Davido, has tested positive for coronavirus.
POLITICS News reports that Davido via his verified Instagram account on Friday evening disclosed that his family underwent coronavirus tests and his wife's report came back positive.
He wrote: "Hey everyone ! I came back recently from America after cancelling tour. My fiancé Chioma also came back from London recently with our baby.
"We had no symptoms and still both feel perfectly fine but because of our recent travel history we decided to take ourselves and our all close associates we've come in recent contact with for the COVID-19 test on the 25th of March.
"Unfortunately, my fiancé's results came back positive while all 31 others tested have come back negative including our baby.
"We are however doing perfectly fine and she is even still yet to show any symptoms whatsoever She is now being quarantined and I have also gone into full self-isolation for the minimum 14 days.
"I want to use this opportunity to thank you all for your endless love and prayers in advance and to urge everyone to please stay at home.
"Everyone to please stay at home as we control the spread of this virus! Together we can beat this! Love, D"
Immediately he broke the news, Nigerians took to Twitter to show love, support, and sympathy for Davido and his family.
This news medium captured some of the reactions to the sad incident on Twitter:
Davido been looking for publicity stunt to pull just to promote that dead on arrival song (mafo mafo)😂…but this corona shiiit couldn't allow him

Obo fit talk say chioma get coro… just to promote that song… pic.twitter.com/18gZE8ncQ3

— Jeff💸💸 (@Swagger_jeffrey) March 27, 2020
https://twitter.com/_The_Immortal/status/1243633235663388672
https://twitter.com/dammiedammie35/status/1243633895733690368
https://twitter.com/izybaby01/status/1243632914237198339
https://twitter.com/TheNedum/status/1243632646049206274
https://twitter.com/pengmanmodel/status/1243633046231953409
https://twitter.com/tolutheking/status/1243632180485599233
Mehn the rigging is too much!

Davido with his influence tested 32 asymtomatic people in this Nigeria while there are people with symptoms that have not been tested.

Y'all really need to be very very worried.

— Global🇳🇬 (@okeyjames) March 27, 2020
https://twitter.com/AsiwajuLerry/status/1243632617712386048
I have not been tested, even though i may have been exposed to a confirmed case at the AMVCA but Davido and 32 people, who have no symptoms( a criteria for getting tested) got tested?

I was simply told to self isolate and watch but Davido and 32 people got tested? https://t.co/yJEoOoq7HB

— Sandra Ezekwesili (@SEzekwesili) March 27, 2020
https://twitter.com/Danny_Walterr/status/1243631358087495682
Davido put out a Tweet saying his Fiancée Chioma is sick with Covid19 and some people are dropping Account details. Their brains must have been set to Auto-beg

— DREYLO (@RealDreylo) March 27, 2020
I feel Davido & his crew were irresponsible, he cancelled all his shows in USA, he knew what was going on. Only to come back to Lagos and be travelling everywhere. Chioma got back too and was everywhere with him. God help the poor people that came in contact with them.

— Kelly Chang (@makingcheddah) March 27, 2020