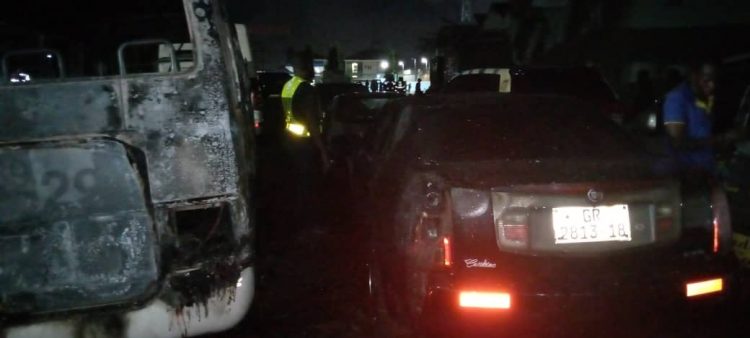 Nigerians have taken to social media to express their sadness as an unknown fire burnt vehicles parked inside Lagos Airport Hote on Thursday.
balls of fire were seen enveloping the atmosphere as firefighters battled to put out the fire.
Director-General, Lagos State Emergency Management Agency, LASEMA, Dr. Femi Oke-Osanyintolu, confirmed the incident.
Also, the Public Relations Officer, Lagos State Fire Service, Ahmodu Shakiru said that vehicles parked at the premises were gutted by fire, not the hotel.
However, reacting to the fire incident on Twitter, some Nigerians wondered what's causing fire outbreaks in Lagos and all over the country.
See some of the reactions below as captured by POLITICS NIGERIA:
Lagos Airport hotel on fire. This is too much to bear. First Account General's office and now Lagos Airport Hotel. Help us dear Lord.

Sinzu | Ikeja | #ToyinAbraham#AbuleEgbaKylieJenner
pic.twitter.com/FoOf0z2yMs

— #KOL❤️OUT NOW ⚛ (@oriadeofficial) April 9, 2020
I just heard Lagos Airport Hotel Ikeja is on FIRE…. I pray no much life n properties is lost pic.twitter.com/PGpJdmV7x2

— Big Steppa 👣 (@EseghaaSamuel) April 9, 2020
FLASH: Lagos Airport Hotel Ikeja in Lagos is currently on fire.

If you have loved ones in that area,
Please call them and be sure they are fine.

Also, if you or anyone you know takes this route, please tell them to kindly avoid it for now.

Pls RT this to make everyone aware. pic.twitter.com/UmIJmgPLVO

— #OurFavOnlineDoc 🩺🇳🇬🇬🇧💎 (@DrOlufunmilayo) April 9, 2020
Incase you wake up and you are wondering why Lagos Airport is trending… pic.twitter.com/vCdnvv0TmC

— Four-eyed King 👑 (@harriisu) April 10, 2020
https://twitter.com/joshuaumoh6/status/1248424005733736453
I heard Queen Denearis and her Dragons are in Nigeria😏…From AGF's Office on fire to Lagos Airport Hotel…oluwa wetin dey Firenate!!?!!#God Save us from all!🕊🙏🏾

— Pelz (@pelexolajide) April 10, 2020
From AGF's office yesterday to Lagos Airport hotel all on fire
Who is setting Nigeria on fire oh? Festac own still dey fresh oooo!!!! #13inLagos #idriselba #Vector #LagosAirport #Buhari #StayHome pic.twitter.com/c1yiO8V1eX

— Dat Cinematographer ⚙ (@Faustynowilson) April 10, 2020
Firefighters and other emergency responders are battling with putting off the inferno as at the time of filing this report.
BREAKING: Lagos Airport Hotel on fire [Video] https://t.co/I5CuI1HiDz

— mideno bayagbon (@MidenoBayagbon) April 10, 2020
The Zoo is finished.

JUST IN: Lagos Airport Hotel on fire https://t.co/7lQUnN1QJw

— Amozylight (@Amozylight1) April 10, 2020
Fire Guts Lagos Airport Hotel A Day After Part Of Finance House Was Burnt Down
💥💥💨
Apr 10, 2020 12:42 AM
The Lagos Airport hotel is currently on fire.
Images captured by concerned… https://t.co/EImS0BlC8n

— Pri Ibraheem Adewale (@Dreeam1986) April 10, 2020
Who is setting Nigeria on fire? LAGOS Airport on fire https://t.co/WXZ24WajOi

— Effisus Ikpeme (@EffisusIkpeme) April 10, 2020
It was the accountant general's office a couple of days back. Now it's Lagos Airport hotel. It is well. https://t.co/8ZGpO5oFE4

— AHMED (@mcmedal001) April 10, 2020
13 in lagos , now lagos airport hotel ikeja on fire..
Mad oh..

Now now..

RT RT oh pic.twitter.com/47tszJqgkh

— Oji (@OjiOgbu_Dr) April 9, 2020