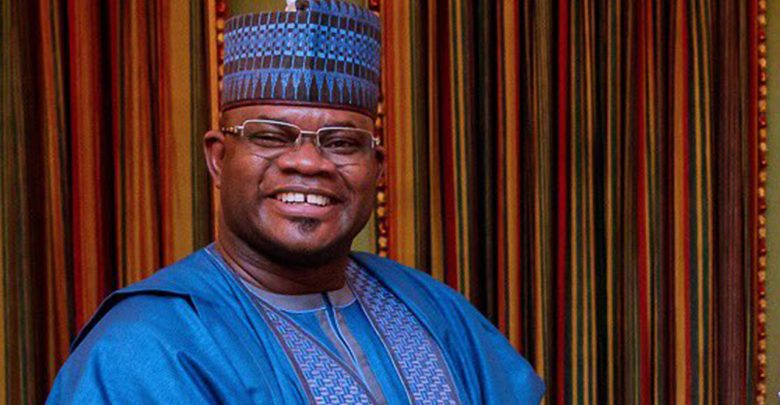 Nigerians have taken to social media to react to a video message done by the Governor of Kogi State, Yahaya Bello, on his alleged coronavirus test results.
Bello, in a short video message on Wednesday, said that he does not have the virus adding that anyone who wished it upon him will 'have HIV'.
In his words; "I ain't got no COVID. Those who wish me to have COVID..will have HIV. I'm Good, Hale and Hearty".
He also challenged anyone who doubted his health status to a boxing match.
"I challenge anybody to the boxing ring. I am gonna beat the hell out of you there".
The governor was rumoured to have met President Muhammadu Buhari's Chief of Staff, Abba Kyari, who tested positive for the deadly virus and is currently in isolation.
Some Nigerians have taken to Twitter to mock the governor for his comments, while others were indifferent about the governor's remarks.
Below are some of the reactions captured by POLITICS NIGERIA on Twitter on Wednesday;
https://twitter.com/LailaIjeoma/status/1242845296746471424
https://twitter.com/CaptainNaij/status/1242818049905958912
Yahaya Bello just tested positive to Corona virus.

Please who knows interesting movies on netflix??
I have popcorn 🤡🤡

— Oga Mccoy ⚡️⚡️ (@mccoyinnocent) March 25, 2020
Yahaya Bello is good, hale and hearty 😂😂😂😂 #COVID19 #COVID19NIGERIA pic.twitter.com/1UISBfL5KU

— Ghaz (@RealGhazali) March 25, 2020
His Excellency, Alhaji Yahaya Bello Adoza not infected with the Corona virus. He was tested negative. So haters should go to hell. May you live long the one and only amiable leader of our time. Fuck you all haters. Love you less. Big Congratulations to kogite and Anebira!!!!!!!!! pic.twitter.com/OXDect5LQ3

— Atuvonoh Abdulazeez omeiza (@atuvonoh) March 25, 2020
https://twitter.com/SodiqTade/status/1242817024339988480
I doubt if Yahaya Bello can escape COVID-19, with this closeness and handshake with Abba Kyari. pic.twitter.com/wvBBSOwtbG

— Ephphatha (@Seundammylola) March 25, 2020
Runtown: I'm the king of giveaway
Peruzzi: i dey try too sha

Yahaya Bello: hold my 🍻 pic.twitter.com/FM8aaTIiS8

— Whatsupblog9ja (@whatsupblog9ja) March 25, 2020
"Those who wish me to have #COVIDー19, will contact HIV"~ Gov Yahaya Bello

😂😂😂 pic.twitter.com/WHY3xAXpN3

— TallJohn🌍 (@JohnFanimokun) March 25, 2020
https://twitter.com/aystickz/status/1242818073305976833
Yahaya Bello when his haters die from AIDS pic.twitter.com/mnJI0UkA7d

— Communist Káka (@Deen__K) March 25, 2020
Guess what?

A Viral Handshake

Signed: Yahaya Bello pic.twitter.com/3dU3Foxaf8

— Growth Clinic (@clinic_growth) March 25, 2020
The day yahaya bello sets his eyes on abba kayari again. There will be gbas gbos. pic.twitter.com/wpBt8kEGiB

— Nwoke ka ibe ya. (@only_1_jachi) March 25, 2020
Governor yahaya Bello have a message for you haters. pic.twitter.com/VpTqWtozKB

— CHESKY (@tweetsofchesky) March 25, 2020
Omo, the way Yahaya Bello used muscle to collect the Rona… You'll think it's his birthright. pic.twitter.com/WeWOGqMbpy

— David Ibeh of The Misfit (@TherealDayve) March 25, 2020
Governor Yahaya bello also did giveaway via his last contacts🥺🥺cheerful giver😷🤦🏻‍♂️😑 pic.twitter.com/hOroZGyyQn

— Osama🌚 (@osirmah) March 25, 2020
Gov. Yahaya Bello says "I gat no COVID" he wants to challenge anyone who doubts in a boxing ring. 😷 pic.twitter.com/JrsQiSKCf1

— ђ.U̶̲̥̅̊.S̶̲̅.ђ! (@iOxide) March 25, 2020
Presentation by Abba Kyari..

Original copy received by me !

Signed: Yahaya Bello pic.twitter.com/UWWP0zuTUI

— Dynamic V (@IamDynamicV) March 25, 2020
https://twitter.com/ayemojubar/status/1242843726873010176