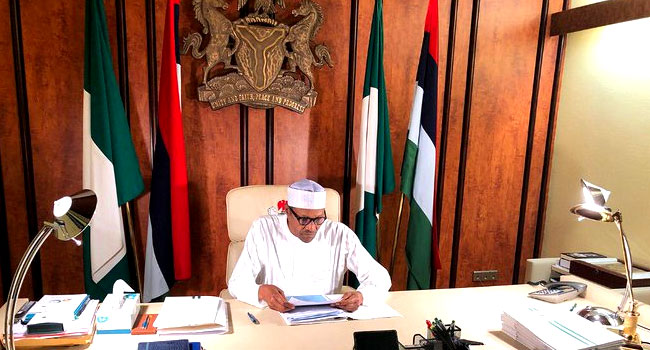 Some Nigerians have taken to social media to express their feelings about the planned nationwide broadcast of President Muhammadu Buhari.
The Special Adviser to the President on Media and Publicity, Femi Adesina, had announced this in a statement that Buhari is scheduled to address Nigerians by 7pm today
"Television, radio and other electronic media outlets are enjoined to hook up to the network services of the Nigerian Television Authority (NTA) and Federal Radio Corporation of Nigeria (FRCN) respectively for the broadcast," he said.
The President is expected to address Nigerians on the coronavirus (COVID-19) pandemic as some residents in Lagos, Ogun, and the Federal Capital Territory expect to know whether the lockdown would be extended or not as the lockdown is expected to end. tonight.
Some residents in Lagos and Ogun State have raised alarm about unrest in their communities and they expect the president to address the insecurity situation in the two states.
However, Nigerian social media users have taken their time to call out Buhari's media on the planned broadcast. They asked the media aide not to waste Nigerians time by playing a recorded broadcast.
See some reactions below:
Femi Adesina should simply tell us he will address the nation by 7pm since he told us it's not @MBuhari style to address the nation at this critical time.

— Prince Olim (@PrinnyOlim) April 13, 2020
Hello Everyone ,

You can now download the season 2 recorded broadcast of the Buhari speech that will be broadcast by @NTANewsNow today by 7pm as announced by femi Adesina on Netflix or 9jaloaded.

Peace out✌

— Olusegun (@theboyisgreat) April 13, 2020
Femi Adesina and his graphics are working on the photoshop of the today bloodcast clip we are waiting!! https://t.co/1SWj7JGb88

— Donbukey (@donbukey) April 13, 2020
Femi Adesina, I don't know why you always trend for the bad reasons.

— Ferdinard Moko (@ferdinard_moko) April 13, 2020
Femi Adesina said President Buhari will address Nigerians by 7pm, stay tuned guys, expect the best and prepare for the worse.

What are your thoughts with the table below,
lockdown Extension, or Lockdown lift? pic.twitter.com/tWUKKzbEEY

— Oloye Ayo Gbadebo (@holudaray) April 13, 2020
https://twitter.com/Stanley_Speakin/status/1249727101768552451
Finally the world recognized award winning Yahoo boy wants to address us.
And they said @MaziNnamdiKanu & @Imamofpeace aren't influential.
Somebody should tell Femi adesina to make sure it's not a dark video we will be viewing tonight. The Chinese doctors are at work. pic.twitter.com/qQg9ghNtX4

— V£🔥 (@VictorEjikeme4) April 13, 2020
Femi Adesina looking at me & Curtis supporting him on @channelstv where he justified Baba's last speech to continue feeding our school children at home as a palliative & selling fuel ⛽️ for 125 when Bonny light is selling at $19 to $22. Who has had his child fed since THEN? pic.twitter.com/3UTL5zLofE

— kenny Okolugbo (@kennyokolugbo) April 13, 2020
Femi Adesina it's bit Buhari's style to address Nigerians. Now that Mr president has changed style, Let there be a provision for Q&A session with the media/journalist. The governor of Ogun state does it, Is it too much to ask for? I'm tired of this audio address. Thank you

— Chima Chigozie (@CallMeGozie) April 13, 2020
Mr. President, as you prepare to address the demoralized citizens, pls be reminded that you cannot copy lockdown measures from Europe and U.S., without backing it up wit corresponding palliatives as being done in those countries.

EFCC Femi Adesina Extension Damage Madam Oby pic.twitter.com/YmwmdCjNX4

— Ezeh CKay Emmanuel (@ezehck) April 13, 2020
https://twitter.com/FolorunshoBimb1/status/1249705714278445056
By 7pm, they are playing the recorded video of Buhari.

He will announce extension of lockdown by more weeks.

Can Femi adesina do us favor and share the video in Whatsapp groups .

— ONYEDIKACHUKWU ANAMBRA (@OnyedikaAnambra) April 13, 2020