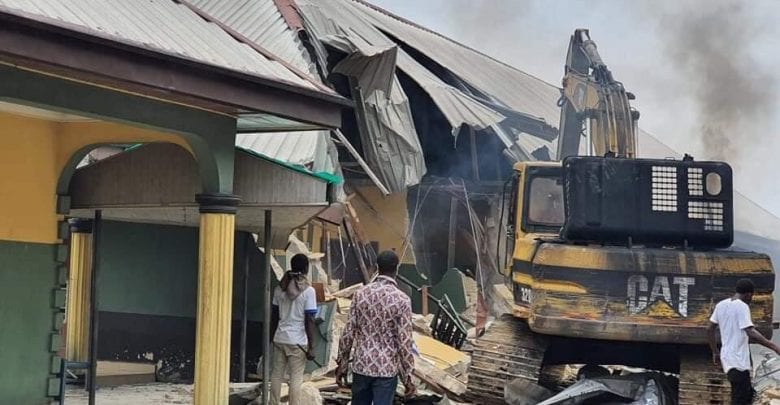 Diverse reactions have trailed the demolition of two hotels, Prodest Hotel, Eleme, and Etemeteh Hotel, Onne, in Rivers state for flouting the lockdown order of the state government.
POLITICS NIGERIA reports that governor Nyesom Wike on Sunday afternoon personally supervised the demolition of the hotel in Eleme while other government officials headed to Onne.
However, some Nigerians have taken to Twitter to react to the demolition. Some accused the governor of overexercising his powers, while others commended him for enforcing the lockdown order in the state.
Below are some of the reactions gathered from Twitter:
https://twitter.com/ManLikeIcey/status/1259467781025804288
To many Nigerians are GOATS, they need Wike's style to get sense by force. pic.twitter.com/d4GY7Wv6OA

— Ayemojubar (@ayemojubar) May 10, 2020
To many Nigerians are GOATS, they need Wike's style to get sense by force. pic.twitter.com/d4GY7Wv6OA

— Ayemojubar (@ayemojubar) May 10, 2020
If Buhari enter Rivers state, Wike fit carry go isolation centre.. The man dy vex..

WhatsApp won't kill person 😁😁 pic.twitter.com/F9G54h0Zir

— Onyebuchi (@onyebuchind) May 10, 2020
If Buhari enter Rivers state, Wike fit carry go isolation centre.. The man dy vex..

WhatsApp won't kill person 😁😁 pic.twitter.com/F9G54h0Zir

— Onyebuchi (@onyebuchind) May 10, 2020
https://twitter.com/TheresaTekenah/status/1259466268446527489
I hope the energy Governor Wike is using to enforce the lock down, he is also using it to increase testing and isolation centre capacity in Rivers state.
Fighting this virus is not about being performative but being readily effective.

— Leo Dasilva (@SirLeoBDasilva) May 10, 2020
If you really think Wike is doing all these because he deeply cares for the people of Rivers State, you are joking. All I see a man who is power drunk.

— Babanla (@biolakazeem) May 10, 2020
– Lockdown: Governor Wike of Rivers State ,supervises the demolition of Prodest Hotel in Eleme for violating lockdown rules, to be on his way to demolish another one in Onne. pic.twitter.com/QbNrEbJcnT

— Postsubman (@Postsubman) May 10, 2020
Lockdown: Gov. Wike demolishes Prodest Hotel in Eleme for violating lockdown rules. pic.twitter.com/PSFAbiVNmX

— Ross Alabo-George (@imaginasion1) May 10, 2020
One day we will wake up to a News Broadcast that Wike has declared Rivers State a Sovereign nation independent from Nigeria https://t.co/MRYuvTBdJq

— Chief Hydra (@BrianJDennis) May 10, 2020
Wike was showing necessary action and ensuring security agencies do their job well. He was conmended for that by many & rightly so. But going on to demolish an hotel is definitely way out of order. That sort of action is really condemnable. A fine should have been appropriate.

— Dr. Dípò Awójídé (@OgbeniDipo) May 10, 2020
Twitter is quiet oooooo. I said make you watch General Wike's video small. Wike is not a ghost Gov pls pic.twitter.com/lzOGpzCzEe

— Woye (@woye1) May 10, 2020