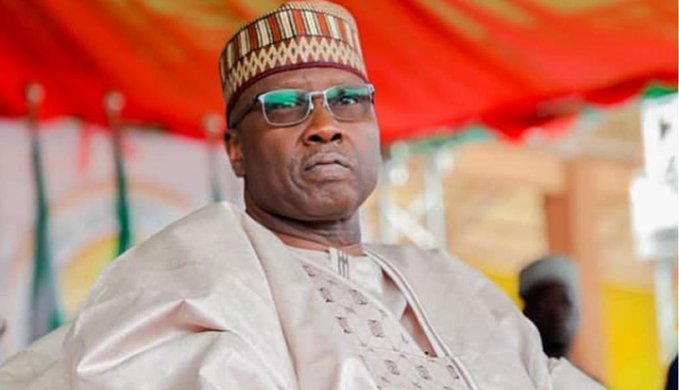 Nigerians have taken to social media to slam the Secretary to the Government of the Federation (SGF), Boss Mustapha, for expressing shock at the poor state of Nigeria's healthcare infrastructure.
During a meeting between the Presidential Task Force on COVID-19 and the leadership of the National Assembly in Abuja on Thursday, Mustapha said he never knew that health infrastructure was not in a bad state.
He said his role as the chairman of the presidential task force on COVID-19 afforded him the opportunity to see the current state of Nigeria's healthcare system.
"I can tell you for sure, I never knew that our entire healthcare infrastructure was in the state in which it is until I was appointed to do this work," the SGF said.
He said if developed countries are overwhelmed and struggling to contain the coronavirus, "then Nigeria needs to improve its own".
"My prayer is that Nigeria's situation does not escalate to that extent because the country lacked what is required to handle the situation," he added.
However, his open admission has angered some Nigerians, with many wondering how such a high-ranking official did not know the state of the country's healthcare system and other sectors.
Below are some reactions gathered exclusively by POLITICS NIGERIA:
Muhammadu Buhari : I am not aware …..
Boss Mustapha: I didn't know …..

So, now that they know what happens ? Nothing ??

Lies and more Lies

Any leader who doesn't know how the citizens are faring is not a leader and not fit to lead!

No more making excuses for these men!!

— Ifeora Okechukwu (@isocroft) April 10, 2020
I don't buy statement from Boss Mustapha that he is not aware of bad state of our health sys. Even we that have not travelled out knw the good health they enjoy abroad. It's not that he does not know but the truth is, they just don't care. @OgbeniDipo @DrOlufunmilayo @Omojuwa

— Olayinka Ekundayo (@ekundayolayinka) April 10, 2020
First among them is the president who is busy forming activity in aso rock, second is the Boss mustapha who claimed that he does not knw that our health system is rottend then the third is the Health minister who said he doesn't knw that 5K is health hazard allowance of doctors.

— Segun Onibiyo (@ugonmezi) April 10, 2020
https://twitter.com/AgashiHaruna/status/1248551487506132993
Boss Mustapha and Minister of healh, just prove Plato categorization of people right. some leader are meant to be farmer or soldier bcuz apart from there failure dey also lack IQ to defend themselves

— April_21 (@Iam_qot) April 10, 2020
Buhari doesn't know anything, Boss Mustapha his SGF knows nothing, the Minister of health, State Governors, senators are all clueless, ignorant of everything. Aren't we all fucked in this country?

— Eyen Akwa Ibom (@idyudofia10) April 10, 2020
It is evident that there is a clear disconnet between what the president is told and the real situation of things. if the SGF Boss Mustapha claims to not know the magnitude of the rot in the health sector.

— Metatron Black #EndSars #EndPoliceBrutality (@SatansTweet1) April 10, 2020
Boss Mustapha(SFG): I didnt know that Nigeria's health system has deteriorated to the level it is now.

Me: So what have you been doing in government since 2015? pic.twitter.com/ROI3G7OGYs

— Emir of Abule-Egba (@Jossywallet) April 10, 2020
https://twitter.com/ChillingInvest1/status/1248550418742939648
If you like call him names, Boss Mustapha is still my model. Sincerity is key in governance….

— michael boikyaa (@mikeboik) April 10, 2020
Boss Mustapha admittance shows that have been lying to me all through and through… Very very incompetence #Radarada pic.twitter.com/8H0t6u3xCO

— Kofo Kiki's Dad™ (@KushAlabi) April 10, 2020
https://twitter.com/theDamorela/status/1248554913338187778
Imagine the kind of advice these people will be giving the President if Boss Mustapha can say this. A lot of them don't know how much deep shit this country is in.

— A Man Called Victory (@iambajeh) April 10, 2020
Boss Mustapha and Osage Ehanire's "I don't knows" is not a mistake, it reveals the bunch of incompetent minds we have in the "original" incompetence cabinet

— LEGENDARY (@PankuLee) April 10, 2020
In Nigeria, Religion is the Opium of the masses. Politicians use it as a tool to exploit. They know a lot of Nigerians would rather drink 'anointing oil' than go to hospitals. I'm not shocked about SGF Boss Mustapha&Minister of Health's attitude towards the health sector.

— debbie.com.ng (@DebsExtra) April 10, 2020
SGF Boss Mustapha and Minister of Health are not aware of a lot of things happening in the health sector.

Dear Nigerians these leaders are not aware of your sufferings too. They get into positions and put a shade on. pic.twitter.com/sRYOLqWqyk

— BlackLivesMatter (@Thatnaijayarn) April 10, 2020
Boss Mustapha is a perfect name for a movie villain
"Boss Mustapha wants to see you"
"But we are right in the middle of-"
"That wasn't a suggestion Harry"

Harry follows the henchmen into a large dimly-lit room. We see Boss Mustapha spin around in his chair

"Where's my money?"

— Imoh (@ImohUmoren) April 10, 2020