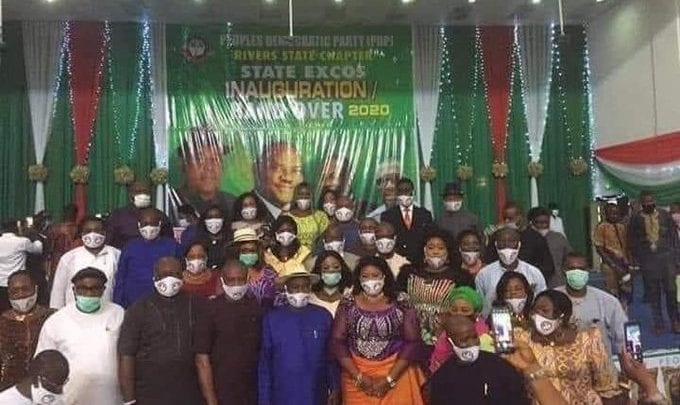 Many Nigerians on social media have knocked the Governor of Rivers State, Nyesom Wike, for defying social media rule at the inauguration of the Peoples Democratic Party (PDP) executive members on Wednesday.
Mr Wike and other top PDP members in the state were seen in pictures shared on the governor's Twitter and Facebook pages.
The governor had on Sunday demolished two different hotels in his state for allegedly violating lockdown order in the state.
Despite being actively involved in the enforcement of the lockdown order, he violated the same rule during photo sessions at the inauguration where Desmond Akawor was inaugurated as the new chairman of PDP in Rivers state.
The Nigerian government has long banned high-density gatherings as the novel coronavirus spread in the country. In some states, violators have been made to face the law.
Meanwhile, many Nigerians have knocked the governor for his latest conduct. See reactions below:
@MBuhari YOU REMAIN THE GCFR OF NIGERIA, @ProfOsinbajo @DrAhmadLawan WE ARE SEEKING JUSTICE FOR THIS WICKEDNESS AND TYRANNY WIKE HAS DONE TO INNOCENT NIGERIAN. POLITICAL GATHERING SHOULDN'T BE SEEN THIS COVID 19 PERIOD. PLEASE WIKE SHOULD RESPECT TE RIGHT OF RIVERS PEOPLE! pic.twitter.com/0wZ0c2NqTF

— Simple (@NsikanSimple) May 13, 2020
Sir with all due respect, you're an hypocrite. How do you hold a whole event in this pandemic? With all these dignitaries presence? How about you arrest yourself to isolation centers and also get a bulldozer to bring down this build. #wikethehypocrite pic.twitter.com/5mQbsutz35

— Pretty Gifty (@gift4stephens) May 14, 2020
This is a subtle reminder that the law is only meant to oppress and victimize the poor in Nigeria. The law is never for the politically powerful. A crying shame, it is.

— FESTUS OGUN (@mrfestusogun) May 14, 2020
You went to bulldoze someone's hotel the other day but here you are today, HOLDING A WHOLE EVENT. Why didn't someone come and demolish that building?

— Sir Lluber Beuthach (@HisgraceEdem) May 13, 2020
Maybe covid19 nor dey catch PDP members in Rivers state..yet they don't want churches to open..

— Disemoh Daniel (@DisemohD) May 13, 2020