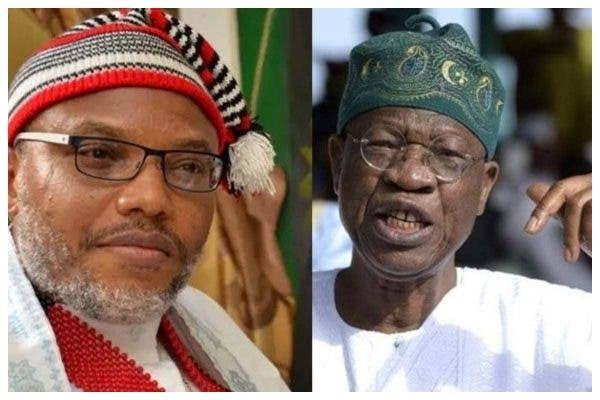 Ralph Uwazuruike, the leader of the Movement for the Actualization of the Sovereign State of Biafra (MASSOB) says Nigeria's Minister of Information and Culture, Lai Mohammed, has helped Biafra separatists "to know that the Federal Government has no evidence against Nnamdi Kanu".
Kanu is the leader of the outlawed Indigenous People of Biafra (IPOB), currently detained by the Department of State Services (DSS). He is facing charges bordering on treason, among other offences.
POLITICS NIGERIA recalls that in a statement on Monday signed by the Special Assistant to President Muhammadu Buhari on Media, Segun Adeyemi for the Office of the Minister of Information and Culture, Mohammed had said the attacks on government agencies and agents allegedly by members of the banned IPOB and its armed wing, the Eastern Security Network (ESN), oppose the call for a political solution to their issue.
He said this while condemning the killing of two policemen, warning that those who carried out the killings, videotaped their heinous act and circulated such will be apprehended and brought to justice.
Reacting to Mohammed's censure of Kanu, IPOB and ESN, Uwazuruike in a video, criticised Mohammed, saying the government official does not have any evidence to prove the brutal killing of policemen last week in Anambra State was carried out by IPOB. The MASSOB leader questioned how someone who is currently being held in custody could have orchestrated or influenced this latest attack on Nigerian security agents.
"Though Lai Mohammed tried to do that wrong thing in law, he also helped us to know that the Federal Government has no evidence against Nnamdi Kanu," Uwazuruike said, before proceeding to read a part of Mohammed's statement.
"He (Mohammed) has admitted here that one Chinonso Okafor ordered the killing of policemen. Then, he is saying again here that those calling for political solution in Nnamdi Kanu's case should condemn the act before calling for political solution. What has this one now got to do with Nnamdi Kanu? Nnamdi Kanu is in detention, another crime was committed somewhere, then you are attaching it to Nnamdi Kanu. How can you explain this type of vindictive approach?" Uwazuruike queried.
Watch the video here, from 4:17.