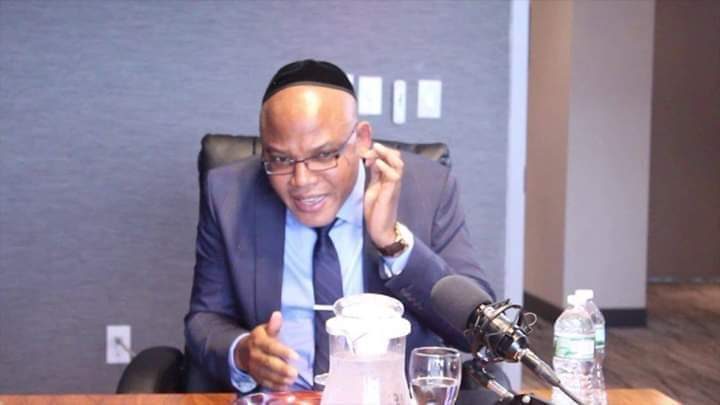 The leader of the proscribed Indigenous People of Biafra, IPOB, Nnamdi Kanu has tackled the World Health Organization (WHO) for planning to begin COVID-19 vaccine trials in Nigeria.
Recall the Officer in charge of WHO Nigeria and member of the Presidential Task Force (PTF) on COVID-19, Dr. Fiona Braka, at the daily briefing of the committee in Abuja had said the agency will soon start the trials in Nigeria.
She said Nigeria has expressed interest to join in the trial and efforts are being taken to start the process in the country.
Braka added that 89 vaccines are being developed globally, including seven in clinical evaluation and several therapeutics in clinical trials to tackle the pandemic.
Reacting to the development in a tweet via his Twitter page on Monday, Kanu said UK Prime Minister Boris Johnson had warned that a COVID-19 vaccine or treatment may be more than a year away, or may not be produced at all.
He wondered which drug or vaccine the WHO and President Muhammadu Buhari administration want to experiment on Nigerians.
He tweeted: "Prime Minister Boris Johnson has warned that a COVID-19 vaccine or treatment may be more than a year away, or may not be produced at all. Therefore I want to ask WHO & Nig. Govt, which experimental drugs are you guys injecting into people in Nigeria? #AfricaLabAnimals SMH."
Prime Minister Boris Johnson has warned that a COVID-19 vaccine or treatment may be more than a year away, or may not be produced at all. Therefore I want to ask WHO & Nig. Govt, which experimental drugs are you guys injecting into people in Nigeria? #AfricaLabAnimals SMH😡 pic.twitter.com/vvpf0qnjA5

— Mazi Nnamdi Kanu (@MaziNnamdiKanu) May 11, 2020