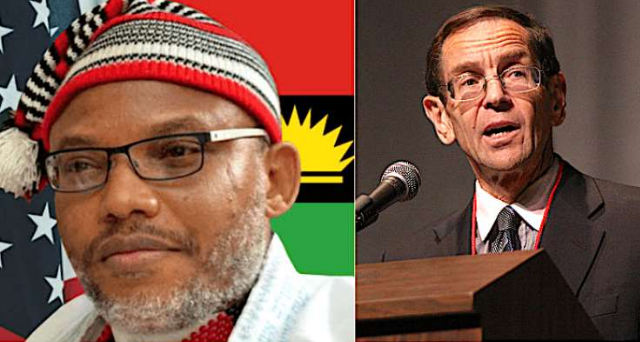 Bruce Fein, a United States-based lawyer for Nnamdi Kanu, the detained leader of the outlawed Indigenous Peoples of Biafra (IPOB), on Friday threatened that the legal team of the separatist will boycott his suit, "until open trial is forthcoming".
POLITICS NIGERIA reports that Fein criticised trial judge, Binta Nyako's handling of Kanu's case, saying it is a "complete fraud".
Prosecutors filed charges against Kanu as his trial on terrorism charges continues. He has been in the custody of the Department of State Services (DSS) since June 2021. His case has been adjourned severally, with his next court date set for November.
Detained Kanu heads IPOB, a group he founded circa 2012 that is pressing for the secession of the Igbo ethnic group's homeland, which covers part of southeast Nigeria. The Nigerian authorities view IPOB as a terrorist group.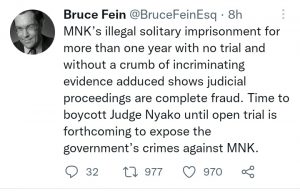 "MNK's illegal solitary imprisonment for more than one year with no trial and without a crumb of incriminating evidence adduced shows judicial proceedings are complete fraud. Time to boycott Judge Nyako until open trial is forthcoming to expose the government's crimes against MNK," Fein wrote on his known Twitter handle.