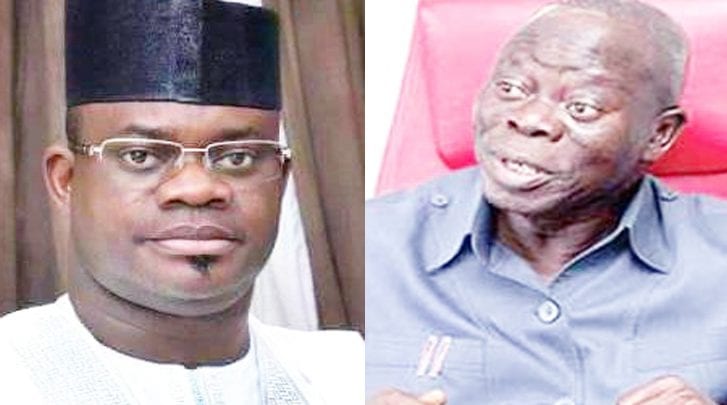 The Governor of Kogi State and ranking member of the All Progressives Congress, APC, Yahaya Bello has parted lips on the party's recent crisis and decision to dissolve its National Working Committee, NWC.
POLITICS NIGERIA recalls that the APC in an extra-ordinary National Executive Committee, NEC meeting convened by the factional acting national chairman, Victor Giadom, on Thursday in Aso-rock, dissolved its NWC.
This was part of efforts to reconcile warring factions of the party.
Speaking on the development in a Channels Television interview on Friday night, Bello said; "In APC we had no crisis, just a disagreement between members."
"We are grateful to have President Muhammadu Buhari, a leader who listens to both sides of an issue. APC today is strong. The storm is over." he said.
He also spoke on the status of suspended national chairman, Adams Oshiomole, and National leader, Bola Tinubu, saying; "Mr. Oshiomhole has done his best. He has played his own part and he is no longer the Chairman of the party. But he remains a father. He will continue to play his role in strengthening the party."
"Bola Tinubu has paid his dues. And nobody is undermining him. He continues to play a fatherly role. We need him and he needs us.".
He also debunked rumours that APC Governors played a role in the crisis that rocked the party.
"The assertion that some Governors decided to create crisis in the party is unfounded. We can't demolish a house that we built."
"APC is getting stronger and it will be proved in the next few weeks when we win the upcoming elections in Edo and Ondo," he said.