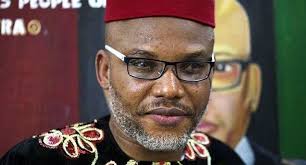 Press Release
Ohanaeze Ndigbo lures Northern leaders, Asari Dokubo to forgive kanu and work for his release.
The apex Igbo socio-cultural organization, Ohanaeze Ndigbo, has reacted to the appeal of the detained leader of Indigenous People of Biafra (IPOB), Mazi Nnamdi Kanu, to the public that he will not beg the Federal Government and President Bola Ahmed Tinubu for his release. Kanu went further to state that it will be an insult to the loving memories of Pa Mbazulike Amaechi who died in 2022 at the age of 91.
Recall that a delegation of Igbo Eldersmen had solicited the release of IPOB leader Nnamdi Kanu after the appeal court ordered his release. However, there are ongoing efforts by Northerners and Asari Dokubo to pressure the Federal Government not to accept Igbo's request for the release of Nnamdi Kanu.
Ohanaeze Ndigbo has insisted that Nnamdi Kanu's statement is in order and that people should stop begging for his release. However, the organization maintains that the Appeal Court's pronouncement over Kanu remains sacrosanct and that the Supreme Court should fix a date for the hearing of the appeal filed by the government against Kanu's release.
The organization also called on the Federal Government to obey the rule of law and release Kanu unconditionally, as he has been in detention for over the years without adherence to court orders.
Ohanaeze Ndigbo, the apex Igbo socio-cultural organization, is believed to have played a significant role in the earlier release of Nnamdi Kanu in 2017, the detained leader of the Indigenous People of Biafra (IPOB). The organization is said to have sent a delegation to the North and prominent Nigerians to pacify them and seek their support for Kanu's release.
This time around, Ohanaeze Ndigbo is likely to adopt a similar strategy, focusing on underground networking with critical stakeholders and appealing to those who were aggrieved by Kanu's broadcasts in the past. The organization may also seek the assistance of Igbo billionaire business moguls and the leadership of the Movement for the Actualization of the Sovereign State of Biafra (MASSOB), who played a significant role in the previous release of Kanu in 2017.
However, the current situation is more challenging due to the lack of diplomatic underground work and the need to pacify some friends of the government, especially some Northern leadership and groups and Asari Dokubo, a former Niger Delta militant. The violent sit-at-home protests have also not brought any desired outcome, leading Igbos to change tactics in their efforts to secure Kanu's release.
Mazi Okechukwu Isiguzoro
Secretary General
Ohanaeze Ndigbo worldwide