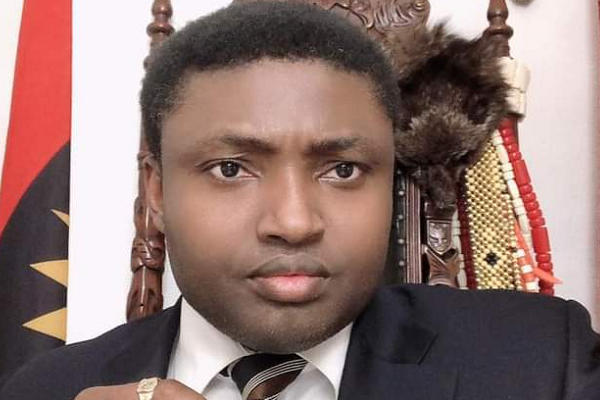 The apex Igbo socio-cultural organisation, Ohanaeze Ndigbo Worldwide said it has uncovered plans of the "enemies of Ndigbo" to hire a self-acclaimed Biafran agitator, Simon Ekpa, who had "capitalized on the windows and lapses" created by the ongoing trial of the Leader of the outlawed Indigenous People of Biafra (IPOB), Nnamdi Kanu, to incite attacks, disrupt the electoral processes, and lessen the voting strength of the South East region.
POLITICS NIGERIA reports that in a statement on Monday by Okechukwu Isiguzoro, the Secretary-General of the Ohanaeze Ndigbo Worldwide, the group said Ekpa's ploy is part of the strategies of "his paymaster" who is one of the frontline presidential candidates in respect of the 2023 election.
The statement added that Igbo people might be compelled to disclose to the world who the diaspora-based separatist is working for.
Ohanaeze accused Ekpa of hiding under his Finnish citizenship to evade arrest and wreak havoc in the Southeast, and called on Interpol to arrest him.
"Ndigbo has canceled the Sit At Home instituted by Simon Ekpa on the 23rd and 24th of January 2023 and urged the Southeast Governors to emulate the wisdom of the Abia State Government to declare Public Holidays on the same days for the people to go out and get their PVCs before the deadline on 29th of January 2023," Ohanaeze's statement reads.
"Ndigbo should know that Simon Ekpa will never return to Southeast again in the future and Igbo residents in Finland who had earlier disowned his actions and activities should aid the Nigerian Government and INTERPOL to arrest Simon Ekpa in other to stabilize the southeast and rescue the zone from the nefarious activities of his gang members masquerading as the Biafra agitators, who are interested in killing people and burning the public buildings ".
"Ndigbo has placed a bounty reward of $50,000 for anyone who has useful information on how Simon Ekpa will be apprehended for his extradition and prosecution in Nigeria, to answer the law of land over his criminalities, incitement of violent killings, and, burning of public properties in the name of Self-determination.
"The tasks to preserve and rescue the southeast should begin with the help of all Igbos in the diaspora and at home, to assist in the arrest of the worsening insecurity challenges, dwindling of the economic and social activities caused by Ekpa's rantings and illegal Sit-At-Home."
It added: "If Ndigbo fails to uproot this decayed tooth (Simon Ekpa), it has been discovered that he is using his declared Sit-At-Home of the 23rd and 24th of January 2023, to taste the waters for his biggest heist of 25th of February 2023.
"He is one of the smartest con men alive, who is playing the scripts of a disfavoured and unpopular Presidential Candidate who is inquisitive to use Ekpa's nuisance to scare away potential Igbo voters in the 2023 Presidential elections as part of his winning strategy.
"Ndigbo has declared Simon Ifeanyi Njoku Ekpa on this day 23rd of January 2023 as the number one adversary and enemy of Ndigbo, who Ndigbo had caught sight of in the last 200 years."