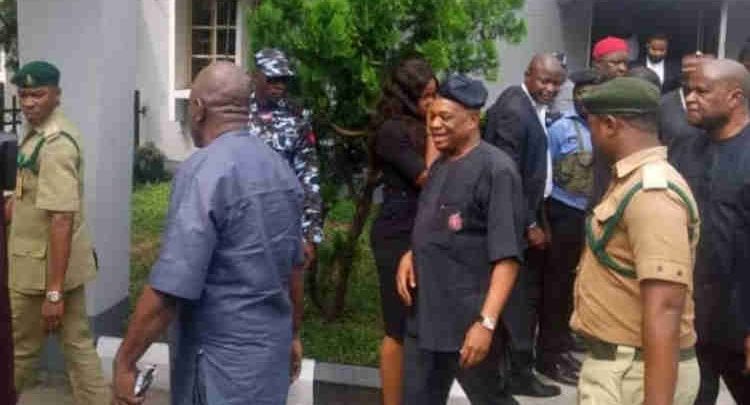 With the criteria listed by the Minister of Interior, Rauf Aregbesola, some convicted politicians are likely to benefit from the Federal government's amnesty programme.
The programme was aimed at decongesting the prison at a time when the scourge of COVID-19 has hit the world and there is a need to contain its spread.
POLITICS NIGERIA earlier reported that no fewer than 2,600 prisoners have been pardoned by President Muhammadu Buhari.
On Thursday, Mr Aregbesola said: "The affected inmates include: Inmates that are 60years and above, those suffering from ill-health likely to terminate in death, convicts serving 3yrs and above who have less than 6 months to serve, Inmates with mental issues and those with an option of fine not exceeding N50,000."
The minister also disclosed that: "In a symbolic gesture of the amnesty given to the 2,600 inmates across Nigeria, 41 Federal inmates and 29 FCT inmates making a total of 70 inmates who met the above criteria will be released today from the Kuje Custodial Centre in Abuja."
He, however, noted that the amnesty will not apply to inmates sentenced for violent extreme offences such as terrorism, kidnapping, armed banditry, rape, human trafficking, culpable homicide and so on.
In this article, POLITICS NIGERIA reviews the list of convicted politicians who are likely to benefit from the amnesty programme as a result of their age or health status.
1. Olisa Metuh
A former spokesman of the Peoples Democratic Party (PDP), Olisa Metuh, was convicted of money laundering and sentenced to 39 years jail term.
The EFCC had accused him of receiving N400 million from a former National Security Adviser, Sambo Dasuki, believed to be part of $2.1 billion meant for arms procurement during the previous administration.
Although he is not up to 60 years of age, the former PDP spokesperson might be in the category of those considered for serious ill-health.
Recall that while his trial was ongoing, he had asked for permission to travel overseas for a medical treatment which was not granted.
2 Jolly Nyame
Another convict that will probably benefit from the pardon is former Taraba State Governor, Jolly Nyame.
After over a decade of trial, Mr Nyame was convicted and sentenced to 14 years in prison for misappropriating funds while in office.
He was found guilty of criminal breach of trust by misappropriating N1.64bn preferred against him by the EFCC.
Mr Nyame, who will clock 65 this year, will likely be considered for the pardon on the basis of his age.
3. Orji Kalu
Orji Kalu, a former Abia state governor and serving senator, was convicted of N7.1 billion money laundering which resulted in a 12-year jail term in 2019.
Kalu stood trial on a 39-count charge brought against him by the Economic and Financial Crimes Commission (EFCC) before a federal high court in Lagos.
The senator, Slok Nigeria Limited, which he owns, and Udeh Udeogu, a former director of finance and accounts in Abia, were accused of diverting N7.65 billion from the purse of the state government, in contravention of section 17(c) of the money laundering (prohibition) act, 2004.
Although the former governor will turn 60 this month, he has appealed his judgement on the ground of ill-health but his appeal was not granted.
This might be his time to leave the prison facility.
4. Joshua Dariye
62-year-old Joshua Dariye was sentenced to 14 years in prison 2018. The former Governor and lawmaker was convicted for criminal breach of trust and two years for misappropriation of public funds, to run concurrently.
Dariye, who defected to the ruling APC in September 2016, was sentenced by Justice Adebukola Banjoko of the FCT High Court.
However, as he turns 62 this year, Dariye may likely regain his freedom under the Federal Government's amnesty programme.