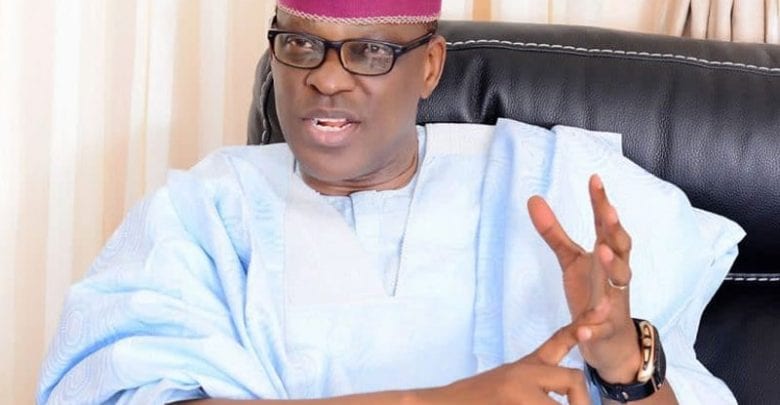 The candidate of the Peoples Democratic Party (PDP) in the Ondo governorship election, Eyitayo Jegede, has reacted to the attack on his convoy by political thugs in Oba Akoko town on Wednesday.
At a Press Conference in Akure on Wednesday evening, Jegede described the attack on his convoy as an attempt to assassinate him. He accused the All Progressives Congress, APC, of masterminding the attack and trying to silence him before the forthcoming election.
Jegede alleged that those that fired at his convoy were thugs in the APC campaign vehicle with governor Rotimi Akeredolu in the convoy. The PDP candidate pointed out that he had lodged complaints to all the security agencies and showed evidence that the thugs in the APC vehicles fired at his convoy.
He said: "lf anything happens to me before and after this election, our people should know who to hold responsible.
"The attack on my campaign train at Oba Akoko by suspected APC thugs was a clear attempt to terminate my life.
"The firing of live bullets sporadically at my vehicles by the suspected political thugs confirmed insinuation that some elements want to murder me before the election day.
"We were scheduled to be in Oba Akoko and we have police approval, the governor's campaign were supposed to be somewhere in the south.
"We followed all laid down processes required to proceed on peaceful campaigns by the security agencies, and having been duly cleared to proceed on campaigns across Akoko South West Local Government, Gov. Rotimi Akeredolu led his convoy our way against the well-established norms for peaceful elections.
"ln all about 15 vehicles were shot at by these thugs who were brandishing pump action. Being in government is not a license to kill. I have never seen this type of desperation in my life.
"We are not violent we are focus on winning this election, we would not be deterred, we will defend ourselves.
We will win this election, their plan is to instil fear in us, we are focus, we are courageous. This desperation should be condemned.
"To avoid bloodshed we had to halt the campaign because of the sophisticated weapon brandished by the thugs. There is no reason for a political party to have armed thugs carrying pump-action and firing the same at the opposition.
"Nobody's life should be at risk. The people's will be done. We will continue to preach peace. "We will defend ourselves henceforth. We won't be cowed or be deterred
"I appeal to party members to from this moment avoid the rampaging and bloodthirsty thugs of Gov. Akeredolu while ensuring that they remain resolute in commitment to ending this vicious tyranny in our midst."