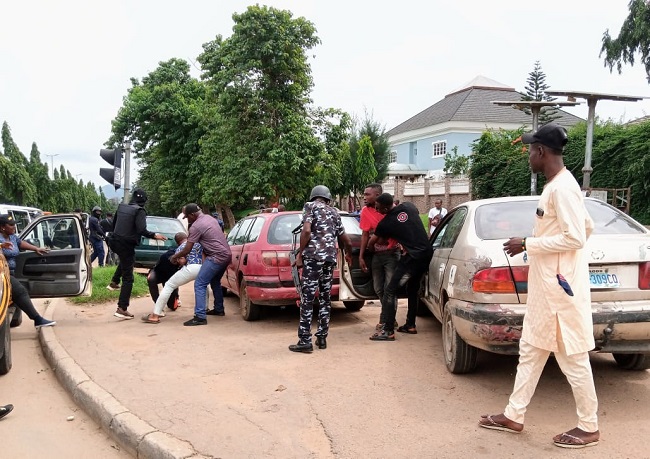 The FCT Police Command has advised residents to be wary of boarding unpainted taxis, otherwise known as 'kabu-kabu,' to avoid becoming victims of armed robbers, also known as 'One Chance'.
The Commissioner of Police in the FCT, CP Haruna Garba, gave the warning on Tuesday in Abuja at a news briefing on the command's achievements in the fight against crime and criminality.
"I wish to advise residents of the FCT to be wary of the kind of vehicles they board. It is advised that they should board only painted taxis from designated motor parks.
"It is risky to board an unpainted taxis, otherwise known as 'kabu-kabu' as they may fall victims of these robbers known as One Chance," he said.
Garba said that police operatives in Abuja, while on crime prevention patrol, rescued one Ebere Alice, who boarded a Golf taxi and was robbed by the driver and the gang members of her belongings before dropping her off.
He said that the police gave the hoodlums a hot chase, halted the vehicle and arrested three suspects.
"They include Sylvester Attah, the gang leader, who has been into One Chance robbery for the past three years, Olalekan Salihu, and Gabriel Okwashi.
"The suspects confessed to the crime and the Golf car with Reg. No TKP 624 AA used in committing the crime was recovered. Suspects will be arraigned in court at the conclusion of investigation," he said.
Garba said that police operatives from Mabushi Division, acting on credible intelligence, also arrested one Samuel Vincent, a member of a robbery gang who specialises in robbing unsuspecting taxi passengers of their belongings.
"The suspect was about to be lynched by an angry mob before Police intervention.
''The suspect, alongside three others currently at large, had picked up a woman (name unknown) from Karmo heading to Lugbe and then diverted the vehicle to the Mabushi area and dispossessed the victim of her belongings.
"The suspect confessed to his involvement in the crime, and the car used in perpetrating the crime has been recovered. Suspect is cooperating with the police on how to apprehend the fleeing suspects," he said.