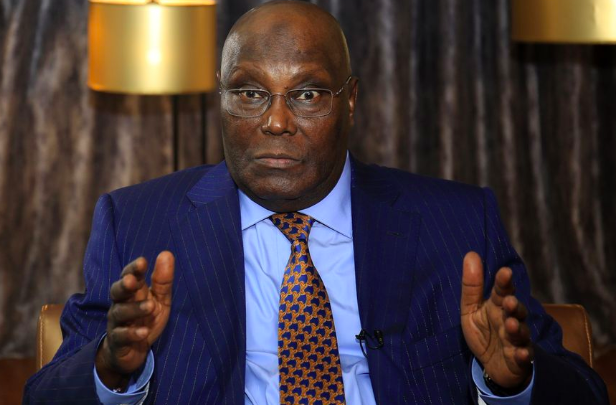 Former Vice President Atiku Abubakar says the National Chairman of the ruling All Progressives Congress (APC), Adams Oshiomhole, frustrated the efforts of the Olusegun Obasanjo administration's to remove fuel subsidy.
In a series of tweets via his verified Twitter handle on Saturday evening, Atiku said Oshiomhole kicked against the removal when he was the President of the Nigeria Labour Congress (NLC).
Atiku said the administration in which he served as the second citizen between 1999 and 2007 would have ended fuel subsidy had Oshiomhole supported it.
Atiku stated this while replying a tweet by his spokesmen, Paul Ibe, which read: "For the avoidance of doubt, the Obasanjo administration embarked on a regime of subsidy removal. But the former NLC Chairman frustrated the efforts. Even at that, the Obasanjo government achieved some measure of subsidy removal before their exit in 2007."
In his reply, Atiku wrote, "The Obasanjo government in which I served commenced a phased subsidy withdrawal. I was tasked with negotiating with then NLC Chairman and current APC Chairman who stood strongly against it.
"Nonetheless, we achieved two phases of subsidy removal of fuel and complete withdrawal of subsidy of diesel before we left office."
The Obasanjo government in which I served commenced a phased subsidy withdrawal. I was tasked with negotiating with then NLC Chairman and current APC Chairman who stood strongly against it. https://t.co/SATa5tB7ir

— Atiku Abubakar (@atiku) June 6, 2020
Nonetheless, we achieved two phases of subsidy removal of fuel and complete withdrawal of subsidy of diesel before we left office. -AA

— Atiku Abubakar (@atiku) June 6, 2020