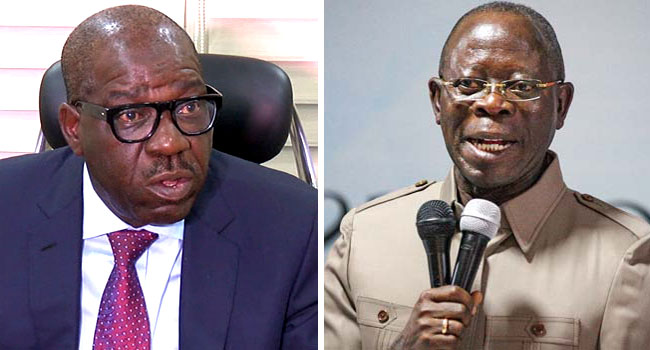 The immediate past National Chairman of the All Progressives Congress (APC), Adams Oshiomole, has alleged that Governor Godwin Obaseki of Edo state disrespected the Benin tradition by wearing a cap before Oba of Benin.
He made the allegation in an interview on a television programme in Lagos on Tuesday. The former Edo governor added that Obaseki committed a taboo by not respecting the culture and tradition of the land.
Oshiomole explained the governor committed the offence last week when he led a group of visiting PDP governors to the palace on a courtesy visit to the Benin monarch before proceeding to the Sam Ogbemudia Stadium to launch his campaign for a second term.
The former APC chairman condemned Obaseki's action as another demonstration of disrespect not only for the esteemed Benin palace but also for Edo tradition.
He said: "You call yourself a Bini man, yet you came to Bini palace wearing a cap in company of other PDP governors."
POLITICS NIGERIA reports that the ancient Benin customs forbid subjects from wearing cap before the Oba even while obliging them to kneel in obeisance.