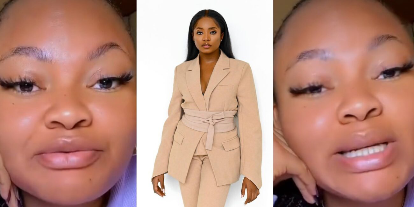 Nigeria's Vice President's daughter, Kiki Osinbajo, got people talking after a makeup artiste, Oma Ojo Vicky dragged her on social media for paying her 15 thousand naira for a month.
Vicky, who took to her Tiktok account to narrate her experience while working for the vice president's daughter, shared how she got called in for a job with Kiki and was asked to resume the next day due to her performance.
Vicky claimed she didn't bother to negotiate how much she would be earning as she thought she would be paid handsomely because she was working for Kiki Osibanjo.
Unfortunately, Vicky could not believe her eyes as she was shocked when she was paid only N15,000 for her service throughout the month.
Politics Nigeria gathered that the makeup artist confronted Kiki, who explained to her that the money earned was based on commission because she didn't do much to bring more money in.
"I did a job with the Vice President's daughter as a makeup artiste. I got called in for an interview, went for it, and everything went well.
"Her P. A asked me to resume the next day which I did, the thing is we didn't discuss salary, commission, or percentage.
"If you are working for the Vice President's daughter, obviously you are expecting huge pay at the end of the month.
"At the end of the month, when others received their salaries, I didn't and I waited for a few days and I went to her P. A and she told me to wait a little, which I did.
"After a few days, she called me to her office and told me I would be paid N15,000 and would get the full salary the next month.
Watch Vicky's video below:
View this post on Instagram