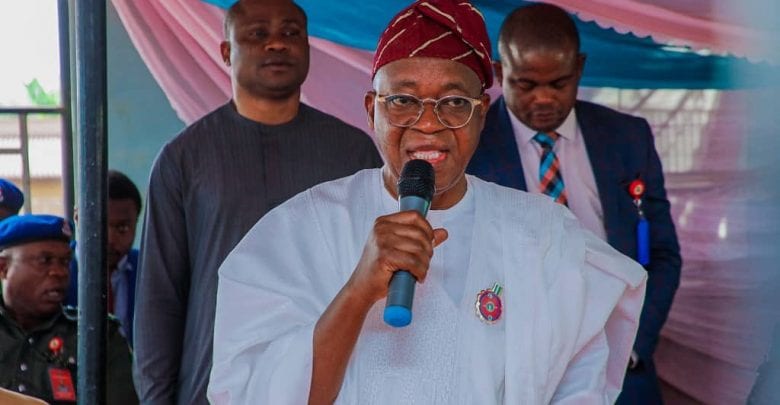 National Assembly lawmakers from Osun State have disowned Senator representing Osun East, Francis Fadaunsi, for accusing the state governor, Gboyega Oyetola of incompetence.
POLITICS NIGERIA reports that Fadaunsi had said that the state government had exceeded its debt threshold and there were moves by the state government to acquire more loans.
But speaking for the majority of the caucus who are elected on the platform of the All Progressives Congress (APC) at the weekend, Ajibola Basiru, senate spokesman, said the PDP senator is making attempts to create tension in Osun.
Basiru said a $20 million grant received by the state from the World Bank two years ago has been "judiciously" expended on primary health centres across the state.
"It is as regards making statements that Osun has exceeded its debt threshold and that the national assembly should not grant any loan request by Osun. We see this as a scare mongering. We also see it as not rooted in facts. We see it as an attempt to create unnecessary tension in the polity of Osun," he said.
"No loan request has been made by the Osun government, assuming there is such a loan request, the procedure to bring such to the national assembly will have to be fulfilled. It would have been scrutinised by relevant agencies of government.
"There are two members of his party (PDP) in the Osun state assembly which has 26, such matter can be rooted through his assembly members in Osun rather than using it as basis because he has the cloak of a senator to seek to scandalise what is not there.
"The state government has always judiciously utilised all financial resources, including loans. Recently, the $20 million grant from the World Bank.
"It was granted following the state's impressive performance under the Saving One Million Lives Programme for Result. The Central Bank (CBN) converted the amount about two years ago to naira at the time, the exchange rate was N305 to a dollar."
Also speaking, Olufemi Fakeye, a ranking member of the house, accused Fadaunsi of politicking with the issue.
"Fadaunsi is just playing politics at detriment of the people of the state of Osun with utterances that are not grounded in facts," Fakeye said.
Responding in a chat with journalists, the PDP senator said the primary health centres are not functioning.
"Have you ever seen an international organisation giving anybody gifts? Grants have conditionality, go and read conditions of grants," Fadaunsi said.
"All the existing health centres that were around during Obasanjo, Yar'Adua were overgrown by bushes, we asked questions 'what have you done with this grant', they started running and spending money on maternity centres – did you put drugs there, are they really functioning?
"If I say anything that is a lie you cannot trust me again, where are these hospitals?"