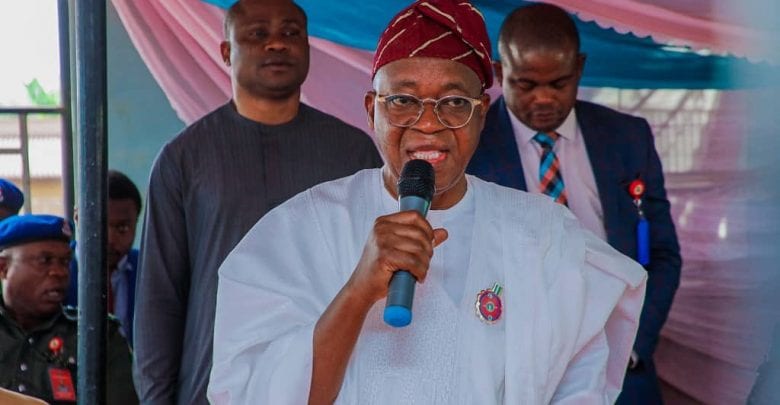 Osun State Governor, Gboyega Oyetola, has extended the lockdown in the state by another fourteen days in a bid to curb the spread of COVID-19.
In a statement on Tuesday, governor Oyetola said the lockdown will commence on Thursday midnight.
He added that during the period, over 25,000 residents will get stipends from the state government.
As at the time of filing this report, twenty persons have contracted the respiratory disease in the state.
"My dear good People of the State of Osun, in order to ensure a total defeat of Coronavirus in our State, we've decided to extend the ongoing lockdown by another 14 days which will commence midnight of Thursday, April 16, 2020."
"However, to allow our people to re-stock, the lockdown is suspended between Wed. 15th & Thurs. 16th April. All markets & land boundaries remain closed during the suspension of the lockdown & the lockdown period. Also, the ban on all public gatherings remains in force.
"No doubt, we've all sacrificed to get us where we are. However, the circumstances of our situation do not support the suspension of the lockdown at this period. The application & implications of half measures are dangerous & grave at this critical period.
" The decision to impose the initial lockdown on the State was a painful one, but its outcomes have proven that we took the best decision as no new case was recorded during the two-week lockdown period. All thanks to your cooperation & support."
"To this end, we'll soon begin the distribution of another tranche of relief materials across the State. I've also ordered immediate payment of stipends due to 25,907 vulnerable citizens.
"This covers payment of N20,000 each to 15,289 elderly citizens & people living with disabilities under our Special Grant Transfer (SGT) scheme & N7,500 stipend to 10,618 youths under the Public Work Fare (PWF) programme," the statement read in parts.