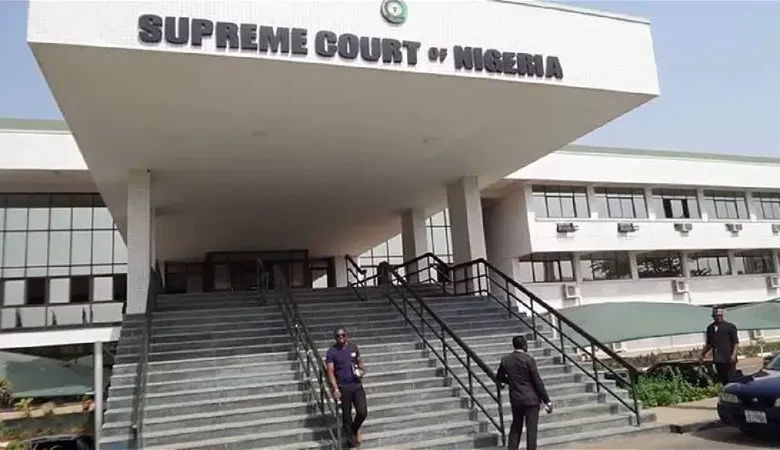 The Supreme Court has strongly criticised the Peoples Democratic Party (PDP) for exploiting social media platforms to intimidate its judges.

POLITICS NIGERIA reports that Justice Inyang Okoro, a member of the Supreme Court, made this damning allegation while delivering a judgment on Friday.

The case in question was an appeal filed by the PDP, challenging the election victory of President-elect Asiwaju Bola Tinubu on the grounds of his running mate, Kashim Shettima, being accused of double nomination.

A five-member apex court panel unanimously dismissed the appeal, asserting that the PDP lacked the standing to initiate such a lawsuit.

Justice Okoro emphasised that the appellant attempted to deceive the court by claiming that the lower court had made a finding of double nomination.

"After thoroughly examining the entire record and scrutinising the judgment of the lower court, no such finding was found," said Justice Okoro.

"It is disheartening to witness the learned senior counsel misguiding the court in such a manner. The use of social media to terrorise and bully the justices of the Supreme Court is both shocking and unprofessional."

Justice Okoro further clarified that Shettima had officially withdrawn his nomination for the Borno Central District on July 6, 2022, as evidenced by exhibits presented in court.

The judge further enlightened that the political party notified the Independent National Electoral Commission (INEC) of the withdrawal on the same day. The court stressed that there was no possibility of double nomination on July 14, 2022, as claimed by the appellant.

The Supreme Court firmly denounced the PDP's tactics, calling them appalling and unprofessional.

The appeal was subsequently dismissed for lack of merit. The court also upheld the award of costs as stated in the lead judgment.