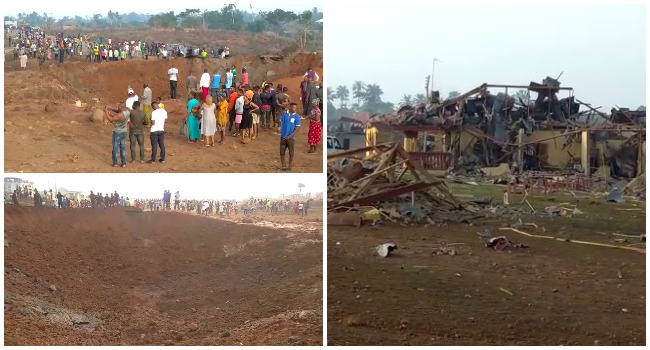 Some stakeholders have consoled victims of the explosion that took place in Akure, Ondo state capital, on Saturday morning.
POLITICS NIGERIA learned that the incident occurred around 1:00am Ilu Abo, in Akure North Local Government Area.
It was also gathered that, while some buildings and edifices were destroyed, 13 persons sustained varying degrees of injuries and no deaths have been officially reported.
According to Governor Rotimi Akeredolu, the explosion was caused by a vehicle carrying explosives.
He said that the vehicle was transporting explosives to a storage facility in a neighbouring state when it developed fault along the Akure-Owo road.
However, Ayo Akinyelure, a Senator representing Ondo Central in the National Assembly, condoled with victims of the unfortunate incident.
In a statement issued by Charles Akinwon, his media aide, Akinyelure said he received the news with great shock and prayed to God to console the affected victims.
"This news of massive explosions came to me as a rude shock. It is beyond human imagination but I want to console the affected victims to take solace in God who knows why such a thing happened.
"May God never let us witness such again in Jesus name. This thing touches me and I would have loved to personally visit the affected victims being my Constituency area but the present situation in the country would not permit, the statement read.
Also, the lawmaker representing Akure North in the House of Representatives, Adedayo Omolafe, called on the National Emergency Management Agency (NEMA) and the Ondo state government to salvage the situation by coming to provide succour for those affected.
"I urged all residents of the area to remain calm at this critical period. I want you to know that my heart remains with you. May God continue to protect us all," he said in a statement of Saturday.
Also, the Southwest chapter of the Peoples Democratic Party (PDP) lamented the havoc wrecked in the community.
This was contained in a statement signed by Ayo Fadaka, the party's Zonal Publicity Secretary.
The party said the Saturday incident adds up to a number of previously unexplained and inadequately investigated explosions that had occurred in our recent past.
"This kind of developments continue to dot our landscape since the inauguration of the Buhari administration in 2015 and we feel enough, indeed, should be enough now."