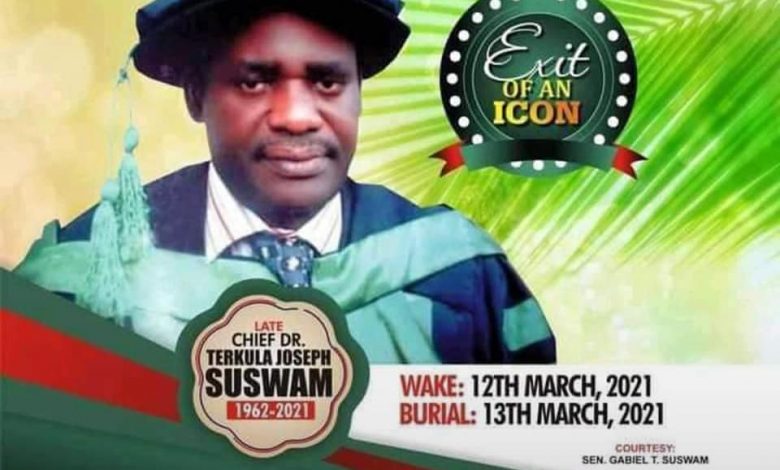 Late Chief Terkula Suswam, elder brother to a Former Governor of Benue State, Gabriel Suswam, has been laid to rest at an elaborate ceremony in Logo Local government area of the state.
Chief Terkula was an accomplished businessman, academician, philanthropist, educationist, broadcaster and community leader. he was assassinated on Tuesday 2nd March 2021.
Gabriel  his wife Yemisi Suswam and other members of the Diaka family arrived the St. Athanasius Catholic Parish Anyiin, Logo LGA, on Saturday morning for the funeral Mass and other burial ceremonies.
Suswam was accompanied by sympathisers including Hon. Richard Gbande, Hon. Bob Tyough and Hon. Mzondo. Current and former members of the Benue State House of Assembly including Hon. Aondoakaa Terwase, Hon. Tertsea Gbiseh, Hon. Terkaa Ucha, Hon. Kuranen Aben Yagba, Hon. Thomas Mamwoo and Hon. Terna-kester Kyenge.
State governor, Samuel Ortom was also present. The governor and his entourage were received on arrival by the Chairman of Logo Local Government Area Chief Terser Agber, Hon. Kuranen Aben Yagba, Hon. Terhemen Ndiisaa, Hon. Thomas Mamwoo and Hon. Anbua.