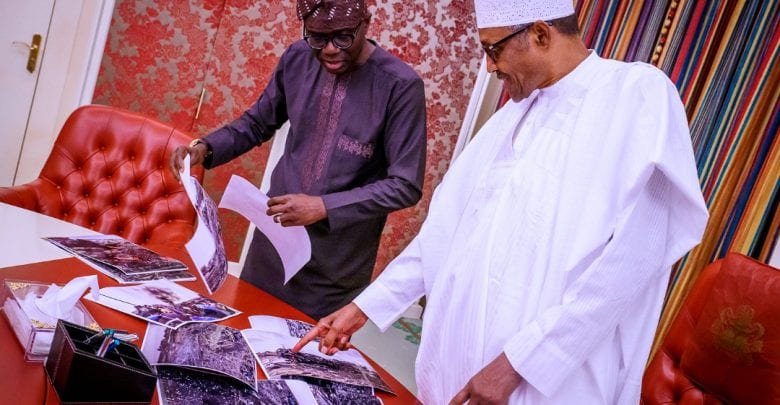 Many Nigerians have knocked the governor of Lagos State, Babajide Sanwo-Olu for taking the pictures of Abule Ado explosion to President Muhammadu Buhari in Aso Rock.
POLITICS NIGERIA reported how Lagos fire incident killed 20 people in the state and rendered many families homeless. Mr Sanwo-Olu on Monday pledged to donate N2 billion to families of the victims.
He also announced the establishment of the "Abule Ado Emergency Relief Fund" after visiting the scene of the explosion. Meanwhile, he later visited Mr Buhari with the pictures of the scene. Not pleased with this gesture, Nigerians on social media condemned the act.
See tweets below:
@Kakaki1: "A President Of The People Would Come Down To Lagos Rubbish"
@ayemojubar: Sanwo-Olu takes pictures of Lagos explosion to Buhari. 😳
"Why didn't he send it via Whatsapp or Email? 🤔
If it takes a flight to Abuja to show pictures, isn't that a CLUE Buhari doesn't know much about what's going on in Nigeria?
They show him ONLY what they want him to see."
https://twitter.com/ayemojubar/status/1239593418638188546
Examining the facial expression of Buhari, it's obvious he's coming across some of these damages for the very 1st time. Same photos that's everywhere on the internet.

Isn't this a signal Buhari doesn't use social media, not to mention reading comments?

What a president we have. pic.twitter.com/XAH59g67tj

— Ayemojubar (@ayemojubar) March 16, 2020
@Ziyayuk: So the governor of Lagos state took a picture of the location of the blast; travelled to Abuja to show the president, and then took a picture of himself with the president looking at the pictures and made it available to the press….hmmmm
So the governor of Lagos state took a picture of the location of the blast; travelled to Abuja to show the president, and then took a picture of himself with the president looking at the pictures and made it available to the press….hmmmm

— Isaiah Etuk (@ziyaetuk) March 16, 2020
@sunnychuks: "Shameful to say the least. Instead of the president to visit the site for an on the spot assessment, they took pictures to him. This people keep budding the bar."
Shameful to say the least. Instead of the president to visit the site for an on the spot assessment, they took pictures to him.

This people keep budding the bar.

— Mmiri enwe Ilo (@sunnychuks) March 16, 2020