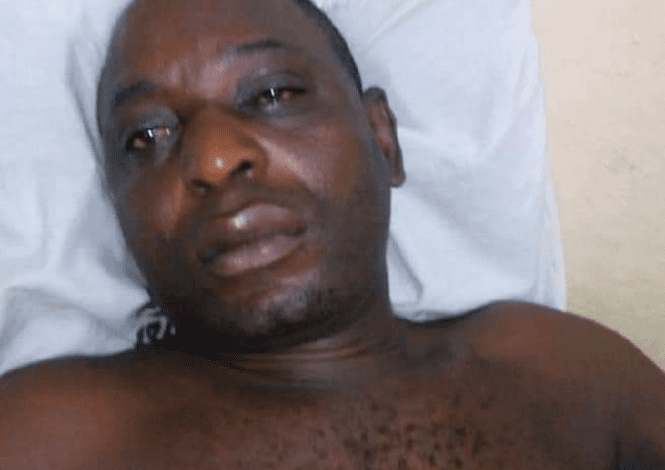 As the protests against Police brutality have grounded activities across major cities in Nigeria, a local security man (vigilante), Agbodemu Ishola has narrated he escaped death in the hands of Police officers in 2017.
Mr Ishola, a 53-year-old man revealed that he was brutally attacked by officers of the notorious Special Anti-robbery Squad (SARS) in an exclusive interview with POLITICS NIGERIA on Tuesday.
The now disbanded rogue police unit, SARS has been in the news for cases of brutality before now. Folks in the past have protested against the deaths of Emmanuel Egbo, Gabriel Ejoor, Tiamiyu Kazeem, Kolade Johnson, Daniel Adewuyi, Ifeoma Abugu, Jimoh Ishaq, Tony Oruama and many more.
Despite a series of online agitations, the irregularities continued but Nigerian youths through the ongoing #EndSARS protests have shown readiness to combat the menace. POLITICS NIGERIA also understands that the protests are yielding results. Speaking on his experience, Mr Ishola said SARS operatives shot at him but he escaped death due to the fact that he had been 'fortified' by his father.
He was thereafter unlawfully detained and tortured by the same operatives.
"My experience with SARS men was dated back to March 3, 2017 at Ebute Metta, Lagos. They came to raid the community in their usual mufti but I approached them to confirm their identities since I was working as a registered vigilante operative".
"Immediately I moved close to them to show them my identity card, they shot at me and people felt I had already died. What saved me from untimely death was because my father had fortified me".
"My father who was a herbalist fortified me in Osun State. So, no gunshot could penetrate my body. I was later arrested and beaten mercilessly".
Mr Ishola said upon his release from detention, he was admitted at Lagos State University Teaching Hospital for medical examination and care.
He, however, said his experience coupled with others made him join the #EndSARS protests. Although, he is doing well now, Mr Ishola believes that the protests are playing a big role in bringing the much needed police reform in Nigeria.