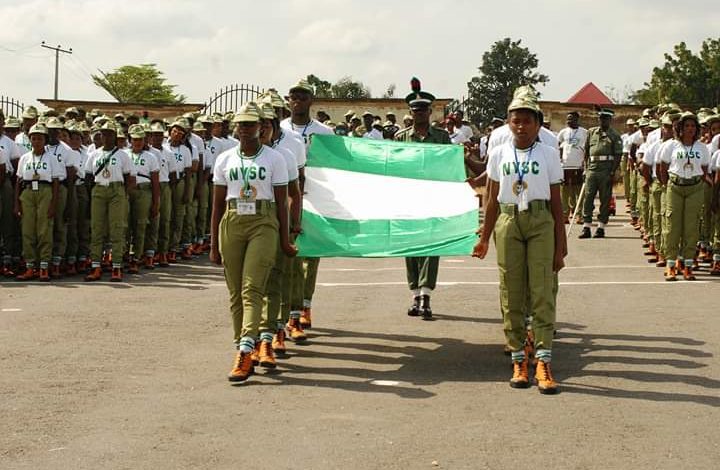 As the debate around scrapping the mandatory one-year National Youth Service Corps (NYSC) continues, forty-four percent of the respondents in a recent poll posited that the scheme be set aside in its entirety.
This implies that, of the 614 who voted in the 24-hour poll conducted by POLITICS NIGERIA, 270 believed that programme has outlived its purpose.
While 39 percent, 239 people, said it should be restructured, only 17 percent, representing 104 users, said it should be sustained. One of the respondents, Onyegbue Donatus, stated that the scheme should be jettisoned because it has lost its "glory and purpose."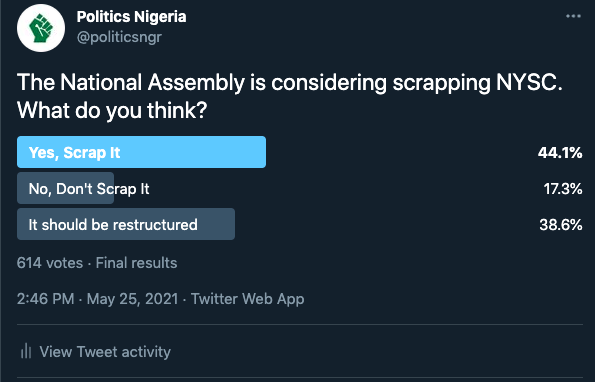 For Ahmed Danza, another twitter user, it should be restructured to include mandatory military service.
This came at the heels of the debates around setting aside the programme prompted by a recent bill in the national assembly, which just passed the first reading stage.
The Constitution of the Federal Republic of Nigeria Alteration Bill, 2020, was by sponsored Rivers state representative, Awaji-Inombek Abiante, to repeal the NYSC Act.
The lawmaker cited violent killings amid the prevailing security situation as reason for the proposal.
"This bill seeks to repeal Section 315(5)(a) of the Constitution of the Federal Republic of Nigeria, 1999, (as amended) on the following grounds:
"Incessant killing of innocent corps members in some parts of the country due to banditry, religious extremism and ethnic violence; incessant kidnapping of innocent corps members across the country;
"Public and private agencies/departments are no longer recruiting able and qualified Nigerian youths, thus relying heavily on the availability of corps members who are not being well remunerated and get discarded with impunity at the end of their service year without any hope of being gainfully employed;
"Due to insecurity across the country, the National Youth Service Corps management now gives considerations to posting corps members to their geopolitical zone, thus defeating one of the objectives of setting up the service corps, i.e. developing common ties among the Nigerian youths and promoting national unity and integration."
Established on May 22, 1973, the scheme has been targeted at unifying Nigerians from all parts of the country, through posting of graduates under 30 years to places outside their states.
However, the Director General of NYSC, Shuaibu Ibrahim, has stated that the scheme is not a waste of time as some have insinuated. "Its relevance in integration and national cohesion must not be underestimated," the official said on Wednesday.
According to him, NYSC has been a useful tool for the socio-economic development of the country through the deployment of corps members.
Going by the legislative processes, ending the NYSC scheme is still a long way ahead as the bill needs to scale the second reading up till the committee stage, third reading and finally, the President's assent.