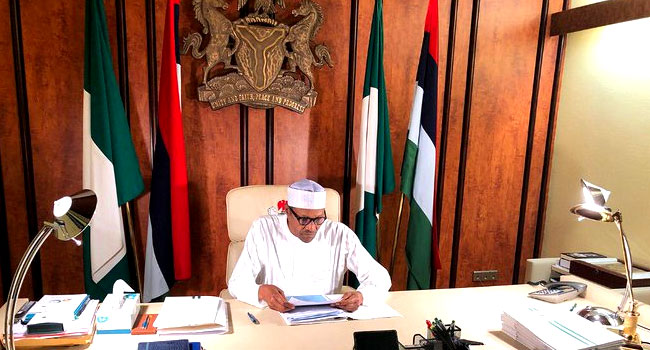 The presidency on Thursday night released a photo of President Muhammadu Buhari working from home after his office in the presidential villa was fumigated in the morning.
In response to Nigerians' call for the president to appear and address the nation over the state of his health, Bashir Ahmad, Personal Assistant to the President on New Media, shared the image on Twitter.
He wrote: "President Buhari still at work".
Minutes after the presidency shared the pictures, Nigerians demanded that Buhari address them on the issue of coronavirus on a daily basis like US President Donald Trump and other world leaders.
They also demanded that written statements by aides are no longer acceptable at this point.
President @MBuhari; still at work! pic.twitter.com/ZWepHQci4q

— Bashir Ahmad (@BashirAhmaad) March 26, 2020
The Presidency also refuted some media reports that the president and his Chief of Staff, Abba Kyari, have been flown abroad for medical treatment.
"The concocted audio message about [email protected]'s whereabouts should be totally disregarded.
"It is Fake News in its entirety. The President tonight at the State House, at work," Presidency Nigeria captioned the photo.
The concocted audio message about President @MBuhari's whereabouts should be totally disregarded. It is Fake News in its entirety. The President tonight at the State House, at work. pic.twitter.com/LTCup8Llz2

— Presidency Nigeria (@NGRPresident) March 26, 2020