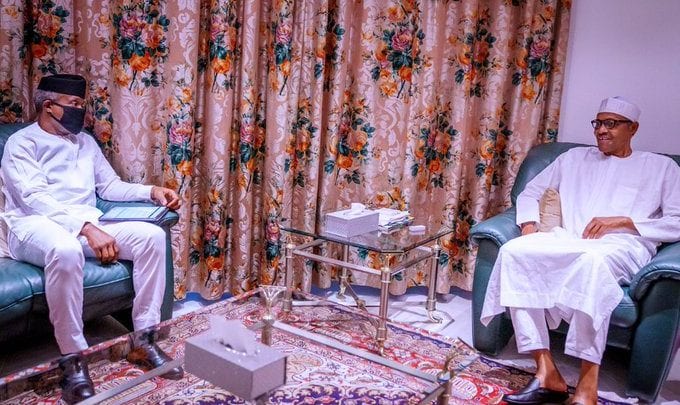 President Muhammadu Buhari-led hs said his administration is taking a two-step approach to curtail the outbreak of the disease in the country.
In a tweet on Sunday on its Twitter handle, the Presidency says the Buhari government is taking the approach as a national response to COVID-19.
Buhari added that the approach is to secure the lives of Nigerians and cushion the effect of coronavirus on businesses in Nigeria.
He said an Economic Sustainability Committee chaired by Vice President Yemi Osinbajo has been set up to develop a comprehensive economic plan to respond to the disruptions and dislocations caused by the pandemic.
President Buhari added that he has also set up a Presidential Task Force on COVID-19, chaired by the Secretary to the Government of the Federation, Boss Mustapha.
He noted that his government has also rolled out several measures and directives on healthcare, border security, and fiscal and monetary policies in response to the pandemic, adding that more measures are coming.
"In Nigeria, we are taking a two-step approach. First, to protect the lives of our fellow Nigerians and residents living here and second, to preserve the livelihoods of workers and business owners."
"In Nigeria, we are taking a two step approach. First, to protect the lives of our fellow Nigerians and residents living here, and second, to preserve the livelihoods of workers and business owners." — President @MBuhari on Nigeria's National Response to #COVID19

— Presidency Nigeria (@NGRPresident) April 12, 2020
The President has set up an Economic Sustainability Committee chaired by Vice President @ProfOsinbajo, to develop a comprehensive economic plan to respond to the disruptions and dislocations caused by the #Covid19 pandemic: https://t.co/2lcdRtu2x6 https://t.co/0B7kml3HD8

— Presidency Nigeria (@NGRPresident) April 12, 2020
The President has also set up a Presidential Task Force on #Covid19, chaired by the Secretary to the Government of the Federation, Boss Mustapha. National Coordinator is @DrSaniAliyu. #PTFCOVID19 is coordinating Nigeria's multi-sectoral inter-governmental approach to #COVID19.

— Presidency Nigeria (@NGRPresident) April 12, 2020
The Federal Government of Nigeria @NigeriaGov has rolled out several measures and directives on healthcare, border security, and fiscal and monetary policies in response to the pandemic. More measures are coming.

— Presidency Nigeria (@NGRPresident) April 12, 2020
State Governments are also being encouraged to rollout stimulus packages aimed at helping Nigerians—especially the poor & vulnerable—cope with these challenging times. To set an example, the President directed the release of 70,000MT of grain from the National Strategic Reserves.

— Presidency Nigeria (@NGRPresident) April 12, 2020
The 70,000MT of grain will be distributed across the country, with a focus on the frontline states of the #COVID19 pandemic.

— Presidency Nigeria (@NGRPresident) April 12, 2020
This Committee has since received Presidential approval for the following measures, relating to a @NigeriaGov Stimulus Programme as well as a revision of the 2020 Budget: https://t.co/oDDte9uUdb

— Presidency Nigeria (@NGRPresident) April 12, 2020