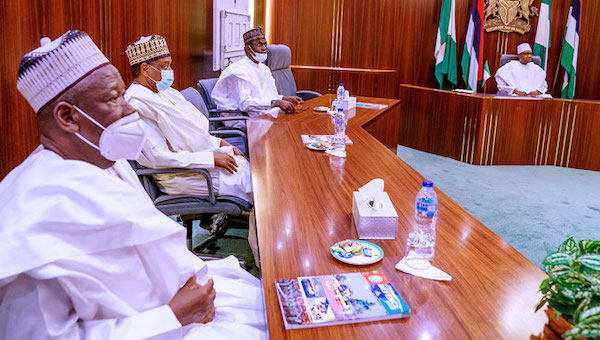 President Muhammadu Buhari has okayed the registration of new members of the ruling All Progressives Congress, APC.
He gave the approval on Tuesday when he met with members of the party's Caretaker/Extraordinary Convention Planning Committee, led by the Governor of Yobe State, Mai Mala Buni at the Presidential Villa, Abuja.
Speaking to State House Correspondents after the meeting, Buni said the approval was in accordance with the Constitution of the party. He added that the committee will also follow rules and regulation in order to entrench democracy.
He also denied the allegation that he was scheming for extension of the tenure of the Committee, saying that the allegations were false. Buni noted that it was only the National Executive Congress, NEC, which is the highest organ of the party that has the power to end or elongate their tenure.
Buni said the committee was continuing the reconciliation efforts and are proud of the work done to secure Ondo state for the party and the return of high profile members.
He disclosed that the national executive committee will meet before the end of the year to work out a proper timetable for the party. Buni, however, said that the party's convention will happen soon.
Reacting to the 14-day ultimatum given for the committee to step down by some members of the party, Buni said though everyone has the freedom of expression, the Party's NEC has issued no ultimatum to the caretaker committee.