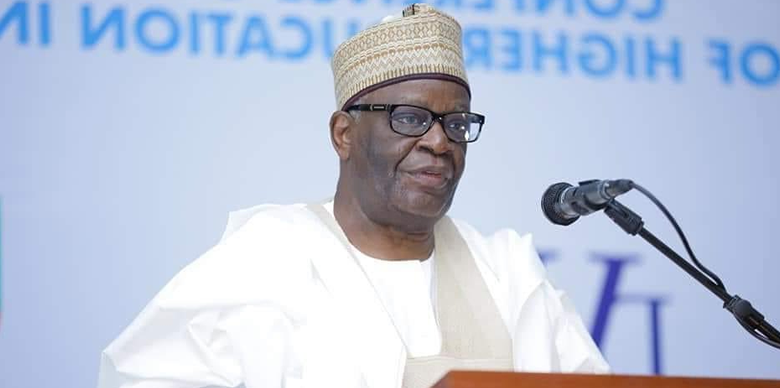 Chief of staff to President Buhari, Professor Ibrahim Gambari has been conferred with doctorate degree (Honoris causa) by the management of Nasarawa State University, Keffi during its 7th combined convocation ceremony.
Professor Ibrahim Gambari was awarded Doctorate Degree of Letters (Honoris Causa) along side with Professor Brunon Holyyst from Poland.
Others who received academic doctorate degrees included the Governor-elect of Taraba State, Dr. Kefas Agbu, has been declared the governor-elect having and that of Sokoto State, Dr. Ahmed Aliyu Sokoto.
The colourful ceremony took place on Saturday at the Convocation Square of the 22 years old university in the ancient town of Keffi.
In his speech, the visitor to the university and Governor of Nasarawa State, Envr. Abdullah Sule commended the Vice-Chancellor of the University and the entire management for the industrial peace existing between the institution.
Governor Sule also announced that the state government will soon commence the payment of salaries for the university's staff.
Earlier in his welcome address, the Vice-Chancellor of Nasarawa State University, Keffi, Professor Bala Muhammed, congratulated those that bagged the university's degrees.and charged them to be good ambassadors of the university.
He thanked the Chief of Staff to the President and Professor Brunon Holyyst for accepting the university's honorary doctorate degrees.
The VC also appreciated Governor Sule for his numerous supports to the university management.
The Vice-Chancellor used the occasion to enumerate the achievements of his administration to include the construction of a new Senate building, three central engineering workshop, laboratories, the fencing of the university"s campuses in Lafia and Gudi
He charged the graduands to be good ambassadors of the University'. He also thanked the governor of the state who is the visitor to the university for his support to them