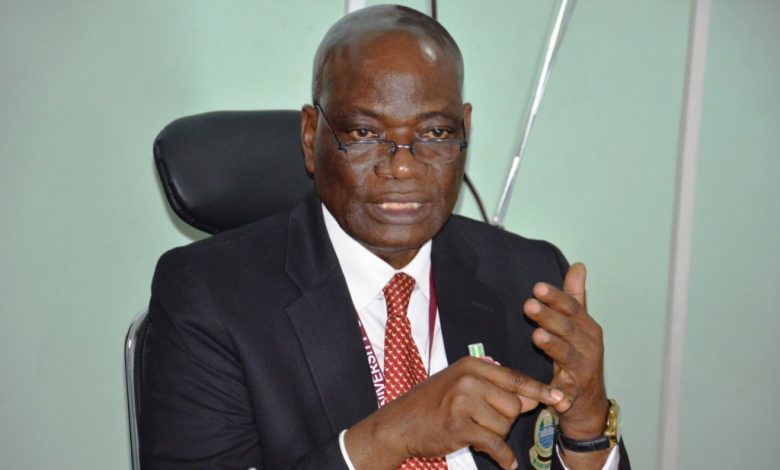 PROFESSOR OLUWATOYIN OGUNDIPE: AN ENIGMA AT 61
It feels pretty glad to write this tribute to the Vice-Chancellor of University of Lagos, Prof Oluwatoyin T. Ogundipe, on the occasion of his 61st birthday. I am glad to do so for the many positive ways his life has impacted on me.
It has been a rare privilege to work closely with him since January 2017, and throughout this period, I have seen a man with abundant value and impeccable character. I am compelled to believe that it is this character that has made him what he is today.
A Scholar of Repute
A man of towering height, well respected intellectual, known for his calm, unassuming and contagious smiles. A scholar with over ninety publications (90) in accredited academic journals and eight (8) co-authored books. A master of grants, who attracted grants of over N190,000,000; £30,000 and $3,000,000 to the University of Lagos before he became Vice-Chancellor. It is not a surprise, therefore, that he has led the University to winning various grants, well over N12 billion in the last three years.
 Passion for Brand UNILAG
His emergence as Vice-Chancellor remains divine. He was clearly not the Council's preferred candidate, but against all odds he was so appointed. Since assumption of office on November 11, 2017, Prof Ogundipe has put in enormous efforts in repositioning the University of Lagos. It is by his hard work that a University that was not ranked by Times Higher Education University suddenly became one of the 600-800 universities in the world.  His commitment to the UNILAG brand remains unequalled and therefore he speaks with great pride about the ingenuity and enormous work of its excellent staff and students. It is gratifying to say that, it is this strong commitment to the UNILAG Brand that  formed the basis for the hostile relationship with the sacked Council. For Professor Ogundipe, the Institution and its structures were far more important than anyone's interest.
Man of Peace and Great Confidence
When the Council-Management crisis started, and indeed throughout the life of it, Professor Ogundipe tried everything possible, including meeting with a long list of senior citizens, to appeal to Council to see how they can all work together in the interest of the University. However, it was very clear that one party was more interested in parochial-personal gains over the interest of the University.
I was privileged to have spent the night of August 12, 2020 with Professor Ogundipe in his hotel room in Abuja. We had spent a good part of the day tinkering with various ideas on what next to be done following the announcement by the Dr. Wale Babalakin-led Council that the Vice-Chancellor had been removed from office and an Acting Vice-Chancellor announced. I was not too sure how Professor Ogundipe would handle that night staying alone in the hotel room, so I quietly opted to stay back with him. It was surprising that by 10.00pm when Professors Oboh, Lesi and Ogunsola, who were also in Abuja to attend the infamous Council meeting left for their own rooms, Prof Ogundipe just said his prayers and went straight to bed. I was gobsmacked as I couldn't believe that a man who had just been"removed from office" could easily go to bed as though nothing had happened. He was unbothered. The confidence he exhibited was so high, his smiles never diminished for a moment; his demeanour was largely a mystery to me. He woke in the morning and said to me "I represent God as the Vice-Chancellor, God cannot be removed".
A Strategist
The news of his "removal" had gone viral on social media, his phone started ringing continuously. With the countless calls, came a barrage of conflicting advice on what he should do. Some of these advices included granting a press conference, proceeding to court or even forcefully taking over major offices in the University. How Professor Ogundipe listened to all those conflicting ideas and still managed to make best of the moment shows great wisdom and how much of a strategist he is.
 Loved by Many
By the morning of August 13, 2020, Prof Ogundipe returned to a rousing welcome from the staff of the University. The members of staff led by the four unions insisted that Prof Ogundipe remains their Vice-Chancellor. This showed the great love and admiration he enjoys on Campus. However, a few days later, there was a new-turn from SSANU and NASU as the chairmen made statements renouncing their earlier support for the Vice-Chancellor. It later emerged that Dr. Babalakin was very uncomfortable with the solidarity support Professor Ogundipe received when he arrived back to the University Campus. This was a sharp contrast to what he had told the Ministry that "only a few vocal minority wants Ogundipe to remain Vice-Chancellor". To save face, he reached out to the National bodies of NASU and SSANU and promised that as the Chairman of the Federal Government Renegotiation Committee he would be willing to grant SSANU and NASU all their requests provided the two Unions can query the UNILAG branch chairmen and force them to renounce their support for the Vice-Chancellor. This did not achieve much. He was subsequently removed as Chairman of the renegotiation and so his promise to NASU and SSANU fell flat.
Professor Ogundipe has enormous social capital, and this was very useful for him throughout the saga between the University Management and Council from 2017 – 2020. He has remained an apostle of the UNILAG Brand. When the former Pro-Chancellor conveniently held a press conference at the MM2 Airport, and featured on Arise Television, TVC and Channels Television to malign the UNILAG brand, Professor Ogundipe maintained a dignified silence. His argument was that as the Vice-Chancellor, he considered the UNILAG Brand more important and engaging in any media show, at the detriment of the  UNILAG brand,  is quite disingenuous.
Highly tolerant and detribalized
At a point it became fashionable for some to make the crisis a religious one. People started to talk about how Dr. Babalakin, being a Muslim, was a reason for the crisis. But that narrative fell like a pack of cards. This was easy because Professor Ogundipe has shown, over the years, how much he respects and tolerates other religions. He had built a very close and strong relationship with the Muslim community. The likes of Professor R. Ojikutu, Dr Khalid Adekoya, Dr Ismail Ibraheem and Dr Musa Obalola are all Muslims he respects and works harmoniously with. Mr Lawal, who himself is a Muslim and the Bursar of the University, has a very chummy relationship with Professor Ogundipe. Not also forgetting that Dr Dele Ashiru, the ASUU Chairman is a Muslim. All of these people were conspicuously on the side of the University and the Vice-Chancellor. It is interesting to note that, Mr Olawale Quadri, his trusted driver of over ten years, is a devout Muslim whom he would always insist must attend Jumat on Fridays irrespective of what had to be done. It was therefore easy for the religious agenda to fail.
Not only is he tolerant to other religions, but he is a highly detribalised man. His recent appointment of Professor Obinna Chukwu as a Deputy Vice-Chancellor (Management Services) and many other such appointments can easily explain this. In fact, in 2005, he picked up a young Hausa man, Dr. George Nosa from Taraba State to Lagos without bothering what ethnic group he belongs to. He was concerned about the potentials he found. He successfully mentored him until he attained a PhD in Botany.
A Great Mentor
As a mentor, Professor Ogundipe has successfully graduated 16 PhD students, all of whom recount their great experience under his supervision. He matched his words with actions when he said, "Ph.D supervisors are to mentor and not become tormentors".
His Innovative and Tenacious Nature
Always opened to new ideas and ready to try something new. A good example of this was the online teaching mode adopted by the University in the face of COVID-19. When many people showed pessimism and fear, Professor Ogundipe showed great optimism that the University of Lagos can lead the way in providing online lectures in Nigeria. Events eventually proved him right, not only did the University do so, but also successfully conducted examinations online. It takes a man of great courage to venture into such in spite of the hostile environment.
Greater Energy
On the occasion of his 61st birthday, I dare to say he has lived a life full of fulfilment and accomplishment. But he still has great energy, passion and desire to positively affect Nigeria and humanity at large.
Happy 61st birthday BIG BOSS!!!
Bolarinwa Ajigboye writes from University of Lagos