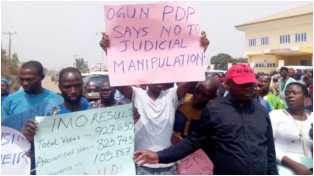 Protesters with placards demanding the review and reversal of the Supreme Court judgement on Imo gubernatorial election have taken to the streets of Ogun state.
This follows several protests in other states including Imo, Taraba, and Gombe over the Supreme Court judgement on Tuesday.
The Supreme Court had sacked Emeka Ihedioha of the People's Democratic Party (PDP) as Imo Governor on Tuesday last week and declared Hope Uzodinma of the All Progressives Congress (APC) as governor.
Reports has it that several members of the Peoples Democratic Party carried placards which displayed: "IMO judgement is a fraud," "Our judicial system is not a department of the APC", "Stop robbing PDP of its mandate," "Stop influencing the judiciary", " Stop compromising our judiciary, " and "Ogun PDP says no to injustice".
In last Tuesday's judgement, the court, in a unanimous decision, ordered the Independent National Electoral Commission (INEC) to issue Uzodinma a certificate of return.
The seven-man panel declared that Ihedioha did not win the majority of votes cast at the March 9, 2019 governorship election.
Justice Kudirat Kekere-Ekun, held that the candidate of the APC won on grounds that he polled majority of the lawful votes cast at the election.
Kekere-Ekun further stated that with the result from the 388 polling units, the APC governorship candidate should have been declared the winner of the election by INEC.